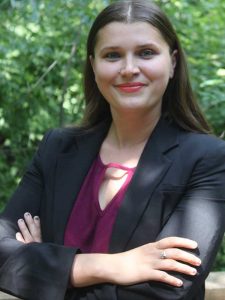 Interdisciplinary research explores ways that communities recover from economic shock and methods for struggling populations to adapt
Last week, Iowa State University announced the recipients of the fall 2017 Presidential Interdisciplinary Research Seed (PIRS) Grant Program. Cristina Poleacovschi, assistant professor of construction engineering and principal investigator of the research project, "Resilient Micropolitan Areas: Evaluating Coping Mechanisms After Economic Shocks," earned one of the four PIRS Grants awarded.
"The idea behind this project is finding what makes communities resilient," Poleacovschi said. "The way we define resiliency is that, when an economic shock happens, a community recovers."
Poleacovschi and her colleagues propose to study the many factors that make micropolitan areas resistant to the detrimental effects of economic shock.
"Job recovery shows us if the community is resilient to economic shocks," Poleacovschi explained.
The team, which consists of faculty from engineering, computer science, sociology, and community and regional planning, will explore multiple capacities of resiliency in addition to job recovery (see figure 1).
Social capacity refers to the social capital of community networks. Physical infrastructure capacity refers to quality of area infrastructure, and institutional capacity refers to the level of non-profit, government and business services. The research team believes the study of each of these capacities in struggling or resilient micropolitans will provide a holistic approach to understanding resiliency.
As Poleacovschi points out, the interdepartmental research is unique for several other factors as well:
• Micropolitans (population centers between 10,000 and 50,000 individuals) are studied less frequently than rural or urban areas
• Micropolitans have the capacity to satisfy the needs of those who want to live in between rural and urban areas
• This project will explore the effects of economic shocks, instead of serving as a disaster study (more common)
"Sometimes, as engineers, we talk about the infrastructure as if it is separate from the communities," Poleacovschi said. "But history has numerous cases where the way infrastructure is put together does affect communities."
Co-principal investigators for this project include Mônica Haddad, associate professor in community and regional planning, David Peters, associate professor of sociology, and Eric Rozier, assistant professor of computer science.
"This project provides city planners, policy makers, and organizations with knowledge regarding how communities can be built or ways they can be responsive when a shock happens," Poleacovschi summarized. "They can respond and adapt to it. That is the idea of resiliency. You want to have those communities that, no matter what happens, are able to adapt."
PIRS supports the initial development of new interdisciplinary research with the potential to attract external funding. The awards support high-risk, high-reward projects that help researchers from different disciplines collaborate on groundbreaking research, including collecting research data, organizing research workshops and building partnerships with other research organizations. Funding for PIRS is provided by Iowa State's Office of the President and an endowment from the Mary G. Miller estate.
---
Explore the latest research from ISU's Department of Civil, Construction and Environmental Engineering by following us on Facebook, Twitter and LinkedIn (Iowa State University Civil, Construction and Environmental Engineering and ISUConE).