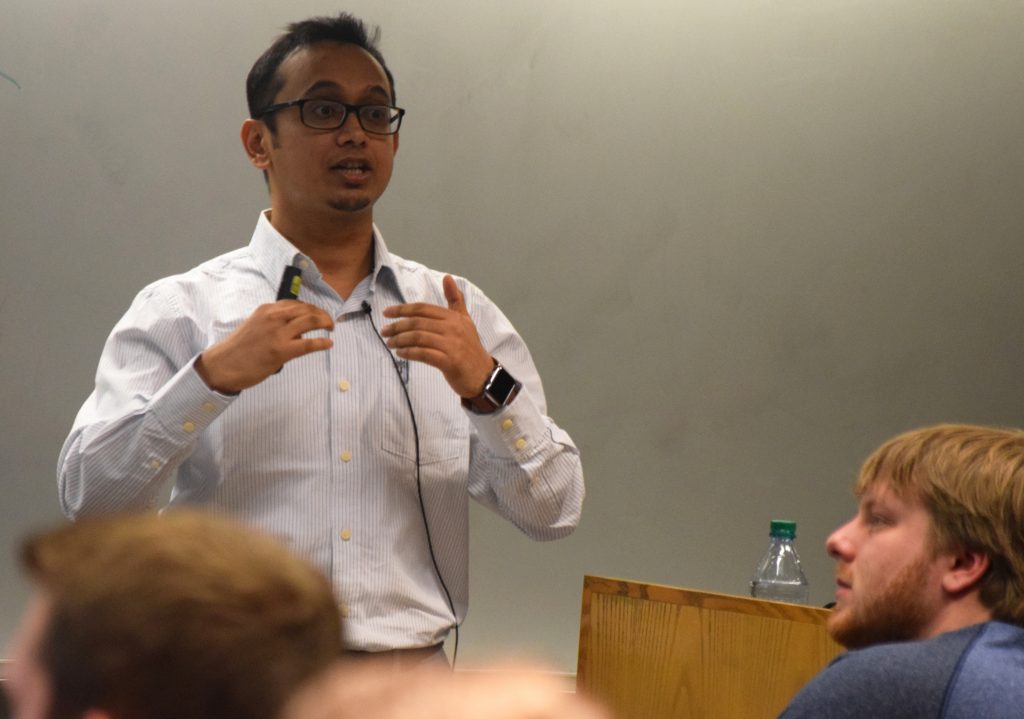 A mechanical engineering graduate student looks to advance the field of tribology and lubrication engineering with an award he received from that field's largest technical society.
Sougata Roy, a PhD candidate in ME, recently received the Society of Tribologists and Lubrication Engineers' (STLE) Early Career Award in the student category. Tribology is the study of two interacting surfaces that are in relative motion. Engineers and researchers in these fields generally study problems related to friction, wear, and lubrication from the macro to nano scale.
Roy said he was honored to receive the award which will cover his expenses to attend the 2018 STLE Annual Meeting and Exhibition this May in Minneapolis. Additionally he'll be able to publish an early career-focused article in TLT (Tribology and Lubrication Technology), a magazine dedicated to current research trends in the field of tribology.
"STLE is the largest technical society in my field of research. Hence, receiving such a prestigious recognition from this specific society certainly made me very ecstatic," said Roy. "This kind of achievement gives me more encouragement and confidence to continue working in such a wonderful and exciting field of science and engineering."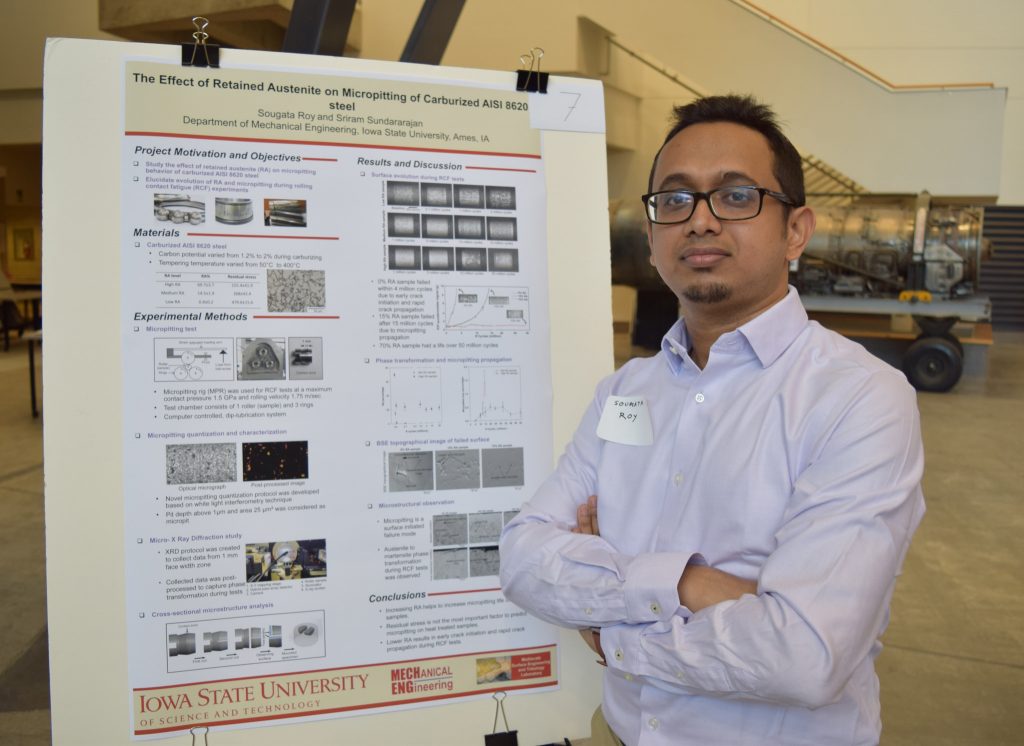 Roy received the award in part because of his past accomplishments and publications, and also in part because of the impact of his current research project in which he has collaborated with Argonne National Lab in Illinois as well as PCS Instruments and Wallwork, both based in the United Kingdom.
"In a nutshell, my research is mainly focused on studying the effect of the specific phase in steel called retained austenite on crucial failure modes observed in gears and bearings," said Roy. "The findings from my research will provide the gear and bearing industries an insight on how to enhance the life of those components by changing the material microstructure. The direct application area of my research findings ranges from the wind turbine industry to agricultural machineries."
This is yet another award that Roy has earned in recent years. He was named a 2016 National Science Foundation (NSF) Trinect fellow, received an Iowa State University Teaching Excellence Award in spring 2015, and earned the "Best Individual Project" award in 2012 from the Indian Institute of Technology Madras.
Roy grew up in Bishnupur, India and in middle school began developing an interest in engineering. In high school he excelled at math and physics and chose to pursue both his BS and MS in mechanical engineering from the Jalpaiguri Government Engineering College and the Indian Institute of Technology Madras, respectively. Roy said he chose mechanical engineering because of "the global opportunities and wide range of application areas" it offers.
After working at Cummins Fuel Systems, India for a year, Roy chose to pursue his PhD in mechanical engineering at Iowa State because of both the research opportunities available and faculty members with whom he wanted to collaborate.
"I was always passionate about working on experimental research that might have some industrial application," said Roy. "After getting an offer letter from ISU, I discussed some potential research opportunities with Dr. Sundararajan since there was a great match between his research focus and my research interest. He mentioned about the research opportunity on gear tribology, which was funded by John Deere and we agreed on working on that specific project."
Sriram Sundararajan, Roy's PhD advisor who also serves as Associate Dean for Academic Affairs in the College of Engineering as well as a professor of mechanical engineering, said he has been impressed with the work he's seen from his pupil.
"His background I think has been fantastic. He brings a materials science-type mindset to this problem and he's an excellent mentor to students," said Sundararajan. "He has a good focus on understanding the implications of what the problems are, what is a good systematic way to approach it, and gather excellent data and do the analysis required to convert it into very high-quality scholarship so it's been an excellent experience and he's an up and coming scientist in this area of tribology."
Sundararajan added that the implications of Roy's research can have a major impact in Iowa where agriculture and wind energy are two of the state's major industries.
"This [research] has implications for both agriculture equipment and earth-moving equipment as well as wind turbines because all of these things share a gear drive that operate at a high load and relatively low speeds. His research can have wide-based impact," Sundararajan said.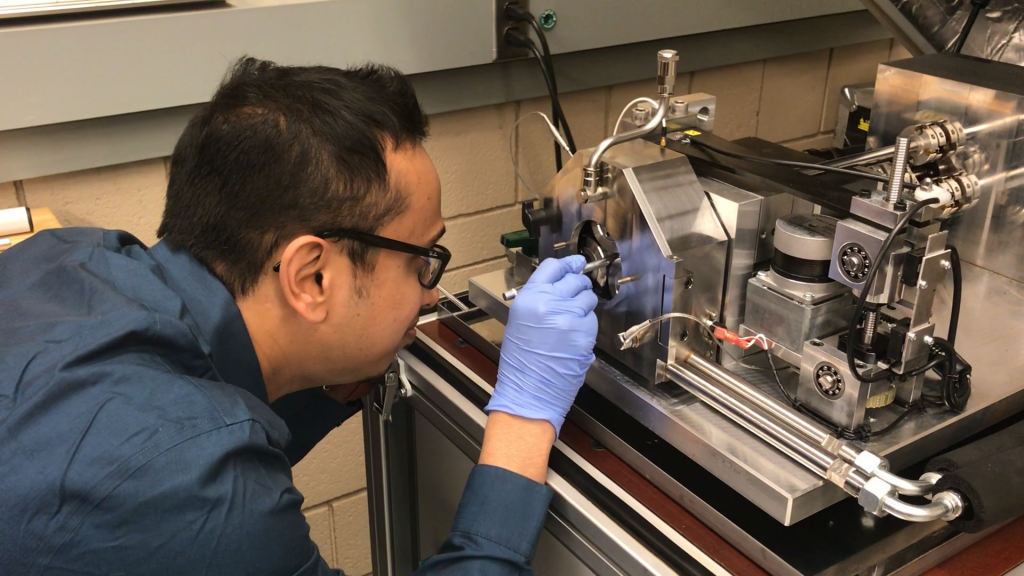 Roy plans to complete his PhD in the summer of 2018. Upon graduation he hopes to find a postdoctoral position at a research university or a national laboratory. He said he would encourage younger students to pursue studies and careers in the field of tribology.
"I would say that the field of tribology is an interdisciplinary research area, which is both technologically relevant and scientifically fascinating.  There exists a wide range of application areas starting from the energy sector to biomedical fields. I think young, aspiring engineers from different disciplines can come forward to investigate more about this field. It is definitely an exciting time to be a tribologist."