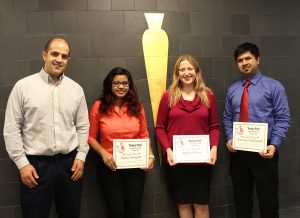 With the final tick of the 90-second timer the voting tabulations began in the Department of Chemical and Biological Engineering's inaugural "Perfect Pitch" graduate student research competition.
All chemical engineering graduate students were required to address the question, "So, what kind of research do you do?" in a timed, 90-second presentation with the use of one Power Point slide allowed. The presentations were done over two days before a packed lecture hall with the students' peers, faculty members and undergraduate students who were invited to observe. More than 40 students presented.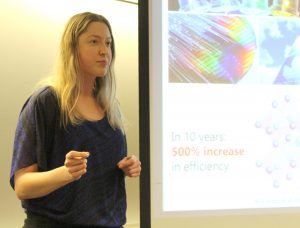 The top three finishers are: First place, Rainie Nelson (major professor Matthew Panthani), "Novel Halide Perovskites for Optoelectronics;" second place, Anurag Boddupalli (major professor Kaitlin Bratlie), "Study of Collagen Organization in Cell-Laden Hydrogels and Animal Tissue Samples for Better Understanding of Wound Healing;" and third place, Sujata Senapati (major professor Balaji Narasimhan), "Combination Vaccine Against Influenza." Nelson wins a cash prize of $150, $100 goes to Boddupalli and $50 to Senapati. All three students will now be eligible to participate in the university-wide 3-Minute Thesis competition later in the year.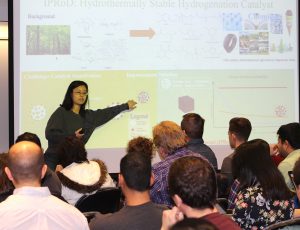 Judging was based on the following criteria:
What is the real-life problem you are addressing with your research?
How does your approach uniquely solve the problem?
What is the potential impact if your research is successful?
Additional criteria included the quality of the visual aid and overall presentation style.
Professor Eric Cochran, Director of Graduate Education, and one of the event organizers, said faculty plans to make Perfect Pitch an annual event. "We hope that through this competition our students sharpen their skills in informing and exciting an audience of non-experts about their research. These skills are crucial, as the next generation of experts will need to communicate effectively about science with a variety of stakeholders ranging from customers to policy-makers, students and the general public."