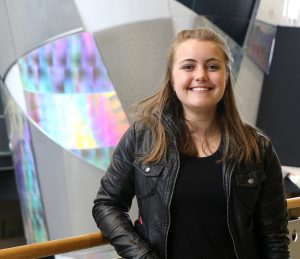 There's not a moment of hesitation when you ask sophomore Madison Harrington if she has a particular career interest in aerospace engineering. "Oh, absolutely! I want to be an astronaut!" And that, she says, it why she applied for – and is delighted to have been accepted for– the selective Brooke Owens Fellowship, "because they are very, very supportive."
She will soon join 36 other young women in a program that provides paid internships and executive mentorships and states on its web site home page that it "serves as both an inspiration and career boost to capable young women who want to explore our sky and stars, to shake up the aerospace industry, and to help their fellow men and women here on planet Earth."
You want to be a female astronaut? We can help with that.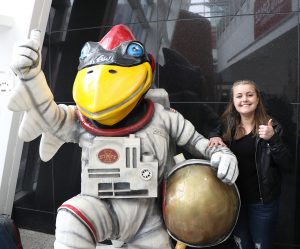 The namesake of the fellowship is a female space industry pioneer, accomplished pilot and philanthropist, who was struck down by cancer at the age of 36. Her resume included being an alumna of Emery-Riddle Aeronautical University and the International Space University; working at the NASA Johnson Space Center, the FAA, and the White House Office of Management and Budget. But she also donated a good part of her life to helping others – especially children and young people, including children orphaned by the AIDS/HIV crisis; as well as empowering young women.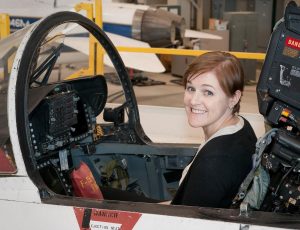 The fellowship specializes in placing interns in different locations depending on their individual interests. Harrington will begin an internship at the Mojave Air & Space Port in California in late May. It's a highly regarded hub for space industry development, flight testing and more. "It supports about 20 employees – people working on experimental aircraft and things like that," says Harrington. She will arrive there in late May for a ten-week program. Though she's not sure yet exactly what she will be doing, she's looking forward to it. "They said 'we will be giving you a project.' I don't know what that is yet, but I have been promised excitement. That was a seller for me," she laughs. The program matches each fellow with two senior- or executive-level mentors – one at the host company and one elsewhere in the industry. Mentors include astronauts, corporate execs, award-winning journalists and senior government officials.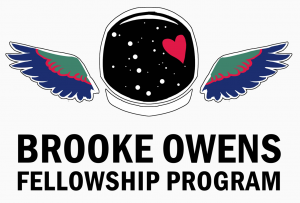 Though the 36 participants are scattered throughout the country for their internships, Harrington says they all share a special bond, and in fact a big part of the program nurtures that. "It's called the Fellowship Summit," she remarks. "They get all of us together in Washington D.C. for a week to take in conferences and activities." Those activities include team projects, one-on-one mentoring sessions, and private Q&A sessions with congresswomen, astronauts, CEOs and more.
If Harrington wants any reassurance on that fellowship aspect of the program, she doesn't have to go far. Michaela Spaulding, now a senior in aerospace engineering, was a participant in Brooke Owens last year. And she has nothing but praise for it: "This program was the steadfast support system that I had always been looking for. The purpose of the fellowship is to serve as not only a career boost for passionate young women but also to inspire them to push the envelope of the aerospace industry. Support from the 2017 fellows and even the founders and mentors is something I still feel now, one year from my acceptance into this life changing fellowship as I get closer to graduating and starting my career." Once accepted into the program, participants forever have direct communication access to the fellowship founders, mentors, host companies and supporters, in addition to the other participants.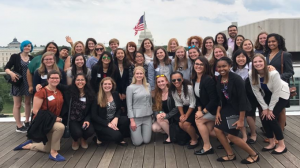 "Since day one I was challenged as an engineer and as a person," says Spaulding. "This was what impressed me about the program. My internship pushed me to be a better engineer, and the 2017 fellows pushed me to be a better advocate for men and women in STEM fields. I was challenged to actively speak up about what I wanted and believed in. We talked about our struggles, our experiences, and worked together to give advice. We learned how to develop ourselves professionally and personally, and in the end, I had a friend in every one of the fellows." Spaulding did her Owens fellowship with Generation Orbit in Atlanta, GA. Her area of interest is propulsion engineering and rocketry. She will graduate with her B.S. in December, 2018 and is currently exploring graduate school programs.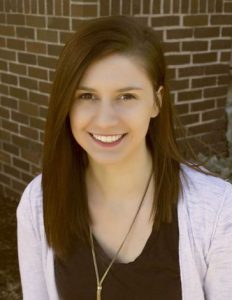 Harrington, who is from Sioux City but was born in Colorado Springs, CO, has a mother and father who are both engineers. Her mother, an ISU alumna, is a mechanical engineer, and her dad is an aerospace engineer. She has a cousin who is enrolled as an ISU undergrad and a brother who is considering coming to Iowa State. She learned of the Brooke Owens Fellowship through aerospace engineering faculty member Kristin Rozier after getting a research opportunity with Rozier's Unmanned Aerial Systems projects. She said Rozier was instrumental in helping her apply for the fellowship. But a simple departmental email asking for fellowship applicants is what initially caught Harrington's attention.
"The 'Our Team' page of the Brooke Owens Fellowship web site has all of us who have been chosen for this year's program," Harrington points out. "And above our pictures it talks about how tough the selection process is. I feel very fortunate to have been chosen to do this." "I think it's pretty impressive that Iowa State aerospace engineering now has fellows in the program two years in a row," Spaulding adds.
More information about the Brooke Owens Fellowship is available here.