Iowa State's Department of Electrical and Computer Engineering is celebrating Black History Month with a series highlighting alumni, faculty and students. Click here for more Black History Month coverage.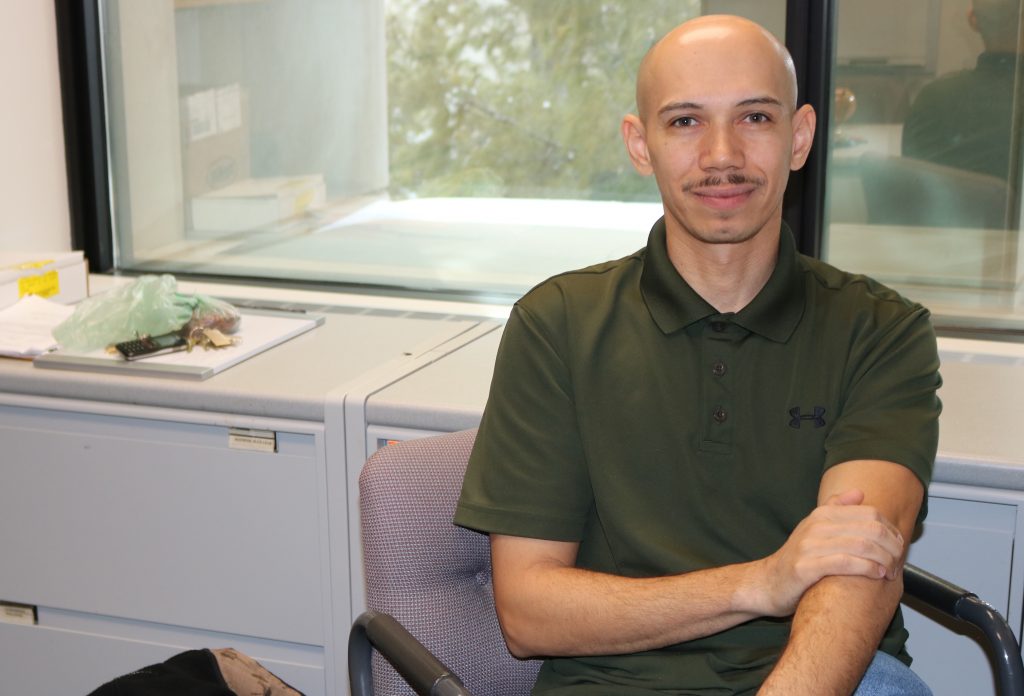 Growing up on a small farm in Maryland, Iowa State University Electrical and Computer Engineering (ECpE) Associate Professor Phillip Jones felt at home when he first came to Ames in 2008. But one specific experience stood out upon his arrival.
"The first week I was here, I got a phone call from Dr. Derrick Rollins from Chemical Engineering," Jones said. "We had a little bit of a chat, and he told me that I was the second person with an African-American background to be hired as a faculty member in the Engineering College. He said he was the first back in 1985. I knew there was not a very good representation of African-American people in academia, especially in engineering, but I didn't realize it was that skewed where I was number two in 2008."
That conversation has stuck with Jones over the ten years he's been at ISU.
"That was very surprising to me and made me think about things a bit," he said. "Since then, there have been a number of hires in the College of Engineering. But that one moment while I've been at Iowa State really made me take stock — made me realize how much of a responsibility I have in some sense."
Though Jones grew up in Maryland, he attended school at the University of Illinois at Urbana-Champaign and Washington University in St. Louis, Missouri, so he has been in the Midwest for a while.
"Overall, I have been pretty fortunate in being in an environment that's always been fairly supportive of me," he said.
This support started at home, when at a young age, Jones enjoyed helping others, especially at school — something his mother noticed.
"My mom always pushed me to do well in school and saw that I enjoyed learning about math and encouraged me on that front," he said. "I have always liked teaching, ever since I was in elementary school. I was always the person that if people were having problems with math, I would sit them down and coach them on how to do long division in third grade. I always liked learning something and helping others go through the same process I went through to learn the process step by step."
Later, as an undergraduate and graduate student, he received the Intel Minority Scholarship and the Graduate Engineering Minority Fellowship, opportunities he believes are important for today's students.
"I think in general it's good to have support for minorities, especially because historically it's been known that often people will come from households that don't have those role models for higher education," Jones said. "For me, my dad didn't go to college, and my mom eventually did get her two-year degree five years ago. She started before I was born and had to put it on hold. So being the first person in my family to go to college, I didn't really have that kind of role model for that."
While Jones' father did not pursue higher education, he taught his son trades that pushed him toward his career.
"My dad was a farmer and a mechanic and a welder, so I got a lot of hands-on experience dealing with engines and stuff. So while it wasn't high-end math, it was still a lot of hands-on practical stuff that kind of brought me to the way I approach engineering," Jones said.
With that backing from his family, Jones started his undergraduate career at the University of Illinois and began hearing that one in three students were valedictorians at their high schools, which he said was overwhelming.
"One of my best friends — I got the sense that they were better prepared in high school. I came from a very good high school. But at the same time, I saw the disconnect in that preparation," Jones said. "Having these kinds of scholarships [for minorities] can help you focus on your studies a bit more so you can get caught up. I'm definitely a big believer in that, as long as you put the time in and get help from people, you can make up the ground."
Because of his experiences and this belief, as a professor today, Jones gives back to student groups at Iowa State.
"I feel that I need to reach out a bit more to the community of students around me as much as I can. Typically when they are doing some type of engineering school event, or some of the different communities that support Hispanic or African-American students want someone to speak with the students, I usually try to be pretty free with my time to visit those people and share with them," Jones said. "Even if I haven't had really bad things happen to me coming through, I want to just give them a sense that there are people that look like you that can do this, and that there's nothing inherently that makes it that you can't do that."
Jones has been the faculty adviser for Digital Women for six years. Women represent another minority group in STEM — Science, Technology, Engineering and Math — fields, and Digital Women formed as an Iowa State student organization to encourage and support women in majors like electrical and computer engineering and computer science.
"I was walking through Coover on third floor for one of my senior design meetings. I walked past a room and I noticed it was filled with a bunch of women having a meeting in there, which is just not a normal thing you see in Coover third floor," Jones said. "Some of the members noticed that I looked in, and two of them came to the hallway and said, 'Dr. Jones, we want to talk to you for a second.' They said they remembered me from the class I taught and thought I was a patient person and might make for a good adviser of their club. We had a few meetings where they would talk about some of the challenges they had as women in engineering, which made me more aware of the issues."
As he learned more about experiences of different minorities in STEM, and because he is a minority himself, Jones cares deeply about modeling inclusion in his classroom and making his students feel welcome.
"In my embedded systems course, which has, like, 200-something students sometimes, usually at least 100, we try to push on the first day of class having the syllabus filled with inclusion-type wording and actually take the time in class to read through the wording to try help people feel a bit more comfortable," Jones said. "But it's still a challenge."
He credits ECpE University Professor Diane Rover, who was the first woman to earn a Ph.D. in computer engineering at Iowa State, with helping him bring inclusion to his courses in new ways. Jones works with Rover on the Reinventing the Instructional and Departmental Enterprise (RIDE) project, which is funded by the National Science Foundation and is focused on creating a new collaborative instructional model for course design to develop the next generation of ECpE engineers.
"With the RIDE program, we're trying to hammer home professional formation skills, and I think inclusion is one of those types of skills. We tried to see who on campus has done a good job of that, and we got some feedback from some of the women representation from the student body saying that they had classes in ABE [Iowa State's Department of Agricultural and Biosystems Engineering], and there were some women professors who on the first day of class went through their syllabus and were really explicit about pointing out what it meant to be inclusive," Jones said.
He then implemented lessons from the ABE department in his courses; he also changed the way he organizes student group work. His embedded systems course is required to complete a final project at the end of the semester, normally done in groups of four students. These groups are made by combining pairs of two lab partners into one group. In the past, he has allowed teams of lab partners to choose who they will work with to make their final group of four; last semester, however, Jones attempted something else.
"One thing we tried to do a little different is we let them still pick their lab partners in groups of two. But then, based off their interests, we started pairing them together strategically," he said. "So I went through and looked at all the different groups and started pairing them up based off of their interests, but also trying to see if there were situations where we have a five-person team with only one female or only one minority person. I tried to the best of my ability to avoid that. I tried to form teams where you would have at least one other person of similar background, so when we got to the larger project you might feel a bit more comfortable having someone else that you can engage with more."
The new arrangement wasn't without its difficulties, though Jones saw success at the end.
"It's tricky to do, because you always want to take students' technical interests into account as a first priority. Second priority, you look at other factors," he said. "There will be students that will see that and sometimes say this is not being diverse, because you are trying to artificially put people together, so it's a tricky thing. You need to be mindful about how you do things. But it seemed to work out well last semester."
One reason Jones believes in inclusion and diversity is because of his own role as a minority in engineering. He once attended a conference in Washington D.C. and heard a talk from a computer scientist, who shared some statistics on African-American students who graduated with a Ph.D. in computer science. The speaker referenced a number from the year 2008, the year Jones received his Ph.D., when fewer than 13 African-American students received a doctorate degree in computer science.
"After around 15 minutes," Jones said, "I started realizing that he wasn't talking about Ph.D.s from his college, or from his state. He meant from the United States of America. It took me off guard. I think most of the audience had a delayed reaction until they really realized what that number really meant."
That number meant that the year Jones graduated, he was one of just a small number of computer science doctoral students of African-American background in the entire nation.
"Afterwards, I spoke with him, and I told him I graduated in 2008 with a computer engineering degree," Jones said. "And it turned out, he was trying to remember his numbers, and he thought he remembered five from 2008 — so being one of five people of African-American background in the United States with a Ph.D. in computer engineering that year is kind of overwhelming. When I was coming through, I really got a lot of support, so I really didn't see that difference. I think as an engineer, you tend to sometimes be very focused on the technology. I was very much like that — very focused on learning the math. Social issues and stuff really was not something I thought about."
Now, as a professor, Jones is aware of these numbers and how critical it is to welcome diversity into schools.
"In general, I think Black History Month is a great idea, and I do like the fact that Iowa State University is embracing it," he said. "It's good to have a focused effort to try to make the student and faculty body aware of the diversity we currently have and what good things have come from it, and try to promote increasing the diversity. It's good when they put the facts out there — what are the current stats — as where we are and where we want to go."
For Jones, diversity aside, his love of teaching keeps him accountable.
"The thing I always reflect on when things get busy with lots of extra hours is I really think about, 'What is my mandate?'" Jones said. "My mandate is essentially to teach students very cool things, for me to do research on very cool things and to always learn about very cool things. So everything that makes up my job description — there's nothing bad about it. Everything is the ideal type of job. Teachers and professors really care about their jobs, so you're always going to put in that extra time outside. For me, I always feel like things aren't good enough for the students. I always want them to have the best opportunities to learn."