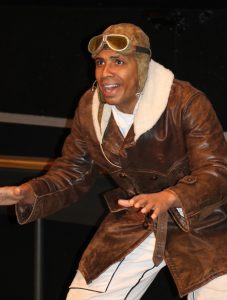 "The Flying Hobos" made a safe, and very happy, landing in the Alliant Energy Lee Liu Auditorium in Howe Hall February 9 – and took a delighted audience back to 1932 in an interactive dramatic production saluting pioneer aviator James H. Banning and his co-pilot Thomas Cox Allen, who became the first African Americans to fly across the United States.
The ties to Ames and Iowa State were abundant. Banning lived in Ames and owned an auto repair shop through most of the 1920s, and attended Iowa State for one year as an electrical engineering major. But a love of aviation was too strong to ignore and he soon left school in pursuit of the dream of flight.
Broadway actors Jeantique Oriol as Banning and Lamar Cheston as Allen brought humor and audience interaction to the unique production, which was sponsored by the Iowa Space Grant
Consortium, NASA, and the Department of Aerospace Engineering. It was coordinated by The Greatest Story Never Told, an organization that inspires the youth of today by telling the stories of unknown heroes of yesterday. "I had never heard of Banning or that he lived in Ames and went to Iowa State," was a common refrain heard during the group's visit.
While at Iowa State, Banning was a roommate of Fredrick D. Patterson, a veterinary medicine student, who later went on to found what became the famous Tuskegee Airmen unit in World War II and then founded what became the Tuskegee Institute. One Aerospace Engineering faculty member and one department doctoral student who attended Tuskegee related that Banning had never been mentioned in their curriculum there.
"Freedom in the sky meant freedom on the ground" was the mantra of Banning, who learned to fly through a private instructor in Des Moines after being denied by flight schools because of his race. He barnstormed in a plane named "Miss Ames," in honor of Ames, Iowa, that he built from random scrap parts, including an engine from a crashed plane that belonged to his flying coach and mentor.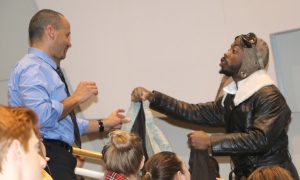 Oriol and Cheston, dressed in authentic-appearing aviator garb from the day, figuratively transformed the setting in the auditorium to the city of Lordsburg, New Mexico, where the "Flying Hobos," as they called themselves, had just landed on a leg of their transcontinental journey – and just as the real aviators had done at every stop in 1932, began to talk up their journey to the assembled crowd and lobby for donation of money and goods so they could complete the next leg of their trip. It included selling a sports coat to one of the onlookers to raise funds.
"How do y'all find your way around here?" asked Banning. A response of "Google!" drew quizzical looks from the flyers. Equally quizzical looks were exchanged upon examination of a modern-day dollar bill received in a sales transaction with an audience member.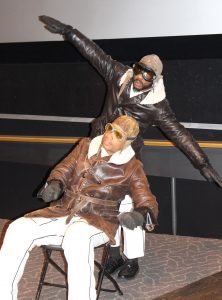 The pair related that while news coverage of their flight often came from small local newspapers on their route, the only national news coverage was from then-called "negro newspapers," which were far from mainstream publications. "The news about this journey today is in newspaper clippings stored in boxes in people's attics," said actor Oriol.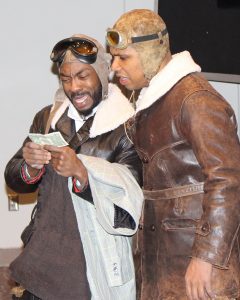 Tragically, Banning's full potential as an aviation pioneer was never realized. A year after his journey he died as a passenger in a plane crash at an air show in San Diego, CA. Not allowed to pilot a plane at the show because of his race, Banning became a passenger in a plane flown by a young and improperly trained pilot who wanted the notoriety of saying he flew Banning. He went into a steep climb and in front of a horrified crowd the plane stalled. Untrained in how to deal with the situation, the pilot was unable to correct the ensuing dive and the plane crashed into the ground, killing both men.
While in Ames the traveling group from The Greatest Story Never Told made an appearance at the Ames Historical Society, which has also helped arrange a display in honor of Banning that will be in place at the Ames Public Library through February 25.
Learn more about Banning on the Greatest Story Never Told web site.