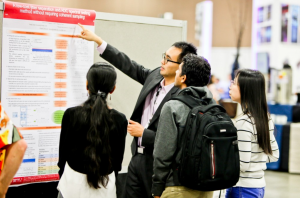 Doctoral candidate at Iowa State University's Electrical Computer Engineering Department (ECpE), Yuming Zhuang, won the award "Best Dissertation" at the Institute of Electrical and Electronics Engineers (IEEE) International Test Conference (ITC). ITC is the world's premier conference dedicated to the electronic test of devices, boards and systems, covering the complete cycle from design verification, test, diagnosis, failure analysis and back to process and design improvement. The conference took place in Fort Worth, Texas, Oct. 31 through Nov. 2, and was the final round of the Test Technology Technical Council E. J. McCluskey Doctoral Thesis Award Contest. The award serves to promote impactful doctoral student work and provides students with the exposure to the community and prospective employers.
Zhuang competed and won the semi-final at IEEE VLSI Test Symposium (VST), the first round of competition for North American Section, in April 2017. His research focuses on accurate and robust spectral testing with relaxed instrumentation requirements.
Spectral testing has been widely used to characterize performances of electrical signals and devices, such as Analog-to-Digital Converters (ADCs), for decades. One of the difficulties in this research is accurately and cost-effectively testing the continually higher performance devices. Standard test methods can be difficult to implement accurately and cost effectively, due to stringent requirements. To relax these necessary conditions and to reduce test costs, while achieving accurate spectral test results, Zhuang and his colleagues developed several new methods to perform accurate spectral and linearity tests without requiring precise, expensive instruments.
This was Zhuang's second time attending the ITC conference. He has been working on this research since the beginning of his doctoral program and said he is glad to see success from his work.
"I feel both thrilled and honored to receive this prestigious award," Zhuang said. "I would like to thank my advisor Dr. Degang Chen for mentoring me in the last five years with every bit of guidance, assistance and his expertise that I need during my Ph.D. study at Iowa State."
Zhuang said this award does not only honor his work, but reflects the work of Chen and Iowa State.
Degang Chen, Jerry R. Junkins Chair and ECpE professor, said Zhuang is very self-motivated and his perseverance is excellent.
"He is one of the most hard-working students I've had in recent years," Chen said.