Do you have a mentor? This civil engineering alumnus and emeritus professor know how to keep an innovative relationship going strong for decades.
When you walk down Engineering Row on Bissell Road that runs along the west side of Iowa State University's (ISU) campus, you will notice a large construction site just west of Marston Hall. In 2020, this groundwork will give way to a new Student Innovation Center. What most passersby don't know, though, is the story of innovation behind the technology being used to build this center. Here's one story …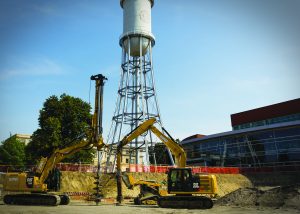 The start of collaboration
Take a look at the photo to the right. You'll see two specialized implements. These implements make up the Geopier GP3® System, and they have unique ties to ISU. Not only have they been utilized on the construction site of the Student Innovation Center, but they are the brainchild of an ISU grad.
Nathaniel "Nat" Fox, who earned both his doctoral and master's degrees in civil engineering from Iowa State, first came to ISU in 1964. Fox had held an officer position in the Army Corps of Engineers in the early 1960s and was looking for the best graduate school. That's the first time he met Professor Richard "Dick" Handy.
"What got me interested in the first place was his (Handy's) reputation at Iowa State University and in the field of geotechnical soil engineering," Fox says.
More than a name
Handy's reputation wasn't the only thing that convinced the young engineer to choose him as a major professor. Handy's tendency to engage students in real-world research was well-known. He also listened to the goals of his students. He remembers one of the first goals Fox confided in him.
"He said that one of his major ambitions was to invent something," Handy says.
At that time, Handy was working on the original prototype of what would become the Borehole Shear Tester.
"I handed it to him and said, 'Well, see what you can make out of this,'" Handy says.
It was the first of many times the professor would challenge Fox to think outside the box when it came to geotechnical advancements, and Fox was ready for it. As Fox continued his studies under the guidance of Handy, a seed was sown for years of respect between the two.
Collaboration beyond campus
After graduate school, Fox served in the United States Army as a chief engineer in the 559th Engineer Detachment (Terrain Division) during the Vietnam War. He kept up correspondence with Handy and fellow ISU associates to ask advice on several projects pertaining to soil stabilization for crucial soil support on highways, roads, airfields and airstrips.
"They were unbelievably critical to helping my work in Vietnam," Fox says. "You couldn't ask for a better relationship than that."
Following his service in the Army, Fox and Handy worked on a Federal Highway Administration project to develop a stepped blade. Both men note that the stepped blade, which could measure lateral stress in soils, was an important step toward the development of Geopier® Systems by Fox in 1989.
Just as before, Fox and Handy kept up a strong line of communication. They asked questions of each other and advice from each other. When you ask Fox whether Handy has served as a mentor, you'll hear this answer …
"He's the number one mentor in my life," Fox says. "He has been and still is."
The Geopier® ground improvement system is used to reinforce soils of various qualities while providing a firm, safe foundation for structures. Purchased by Tensar Corporation in 2002, Geopier® Systems is now used in 33 countries worldwide.*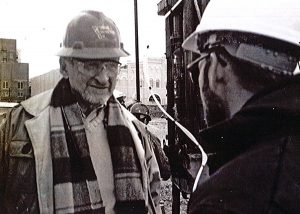 Keeping connections strong
Soon, the Student Innovation Center will bustle with activity. In the midst of new collaborations is a history of student-faculty partnerships. You just have to know where to look.
"It gives an advantage to both parties," Fox says of his collaborative experience with (now) Emeritus Professor Handy.
As for the main lesson he takes from his time studying geotechnical engineering under Handy's mentorship?
"Never stop," Fox insists. "Always try to do better, to do the best."
*Source: Kord Wissman, Ph.D., Geopier® Foundations president and chief engineer
---
Want in-depth alumni stories like this one? Don't miss out! Follow ISU CCEE on Facebook, Twitter and LinkedIn (Iowa State University Civil, Construction and Environmental Engineering and ISUConE).