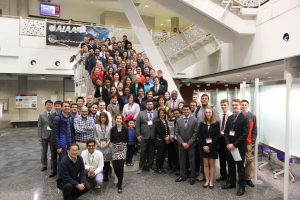 Students from five focus areas present at poster competition
Students budget time each November to get ready to defend their research findings and answer questions during the Annual Civil, Construction and Environmental Engineering (CCEE) Graduate Student Research Showcase and Poster Competition. This year, the symposium was held on Wednesday, Nov. 29 in Howe Hall Atrium on Iowa State University's campus. The CCEE Graduate Student Council organized the event.
Mahmoud Faytarouni is a doctoral candidate specializing in structural engineering. He was one of the graduate students to present at the research showcase and says the competition is a way to gain practice presenting research to various audiences.
"This poster contest provides a great opportunity to deliver a story about your research materials and findings in a way that everyone—engineers and laymen both—can understand," Faytarouni says.
About 80 students presented research at the showcase. That number includes around 50 graduate students and 30 undergraduate students from all five focus areas of CCEE: construction, environmental, transportation, structures and geotechnical-materials. The council called on 25 industry, faculty and alumni judges to score the submissions and counted around 150 attendees at this year's event.
Iowa State's CCEE Department funds the research showcase. Generous donations from sponsors, including Kiewit, Cramer & Associates, Inc., and the Asphalt Paving Association of Iowa (APAI), also make this event possible.