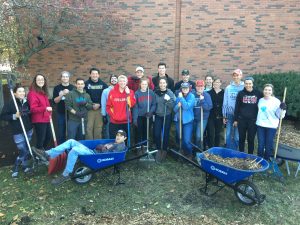 Students, faculty take a new look at using compost on campus during volunteer opportunity
Iowa State University (ISU) produces between 3,500 and 4,000 tons of compost every year. * Where does it all go?
Students and faculty in the civil, construction and environmental engineering department (CCEE) are finding a new way to use this pure compost right here on campus.
"Lots of times in modern society, we make something, we use it, and then we throw it away."
That's Carissa Moyna, a sophomore studying civil engineering. Her fascination with compost and its uses started back during high school.
"It completes the cycle," Moyna said. "That's one of my favorite parts of compost."
Moyna is a University Honors student. When she came to ISU, she knew she wanted to continue compost research. That's how she met James Alleman, a professor of environmental engineering.
Moyna sought Alleman's guidance for an honors project. In coordination with Alleman, she came up with an idea to weld her passion for compost projects with her passion for her civil engineering major — using compost as a landscaping tool around the exterior of Town Engineering Building.
"This is our home building," Moyna said. "We feel really connected to it. I wanted to start this project off here."
On Sunday, Nov. 12, student members of Engineers for a Sustainable World (ESW) and various volunteers pitched in to lay a layer of pure compost and a layer of mulch outside of Town Engineering. Moyna calculated that the project would call for 20 cubic yards of compost and 20 cubic yards of mulch.
"The big picture is, we're trying to improve the landscaping for the building," Alleman said. "In doing that, we're trying to use two waste materials as a showcase example of what we could do if other buildings had the same sort of thing done."
The laying of pure compost is unique to this project, says Lester Lawson, facilities maintenance manager for University Facilities Planning and Management (FP&M).
"It's almost impossible to grow any kind of grass or any kind of seedling in pure compost," Lawson said. "So, we're putting it on top of the soil in the shrub beds, and then putting wood mulch on top. We're hoping that will suppress weed growth."
In addition to its natural weed killing properties, Lawson added that this technique will improve the soil profile. As a part of her research project, Moyna will observe the landscaping's effect on weed growth and other properties during the coming semesters. FP&M will also be watching the project.
"It's possible that we could start putting a layer of the compost –just pure compost – on our established beds," Lawson said. "We'll have to see how it all works out."
In the long run, Moyna hopes to use Town Engineering as a pilot project demonstrating the use of pure compost for a weed repellent and landscaping tool. She also hopes both university and community groups will try the same technique.
"I know that, as a college student, I will be leaving," she said. "I don't want this project to just live during my time here. I want it to extend."
Special thanks to ISU CCEE for donating funds for compost and volunteer efforts. Special thanks also to FP&M for donating mulch, completing edging work around Town Engineering landscaping beds prior to compost being laid, and offering hand tools during volunteer service time. Kaoru Ikuma is an assistant professor of environmental engineering and faculty advisor of ESW.
*Source: Steve Jonas, Agricultural Specialist III at University Compost Facility (Iowa State Research Farms)
---
For exciting student success stories, follow ISU CCEE on Facebook, Twitter and LinkedIn (Iowa State University Civil, Construction and Environmental Engineering and ISUConE).