Two Iowa State University Department of Electrical and Computer Engineering (ECpE) faculty were recognized on Sept. 7 at the 2017 College of Engineering (COE) Convocation. Professor David C. Jiles and Assistant Professor Meng Lu received awards for their accomplishments within the department.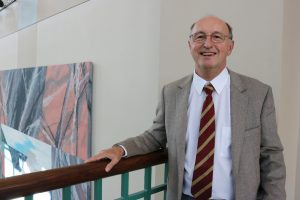 Anson Marston Distinguished Professor Jiles received the titles of Palmer Professor in Electrical and Computer Engineering and the Stanley Chair in Interdisciplinary Engineering. He said he was honored and humbled to receive both awards. The Palmer Professorship will support his research into Transcranial Magnetic Stimulation (TMS) of the brain. He and his team are currently working with the Walter Reed National Military Medical Center in Bethesda, Maryland, on this project. Jiles also said he hopes to expand his research beyond electrical engineering into interdisciplinary engineering with the Stanley Chair award.
"I intend to use the Stanley Chair to reach out to and involve other departments in our research," Jiles said. "We are currently working with Ames Laboratory and Schlumberger on new Nuclear Magnetic Resonance (NMR) sensors."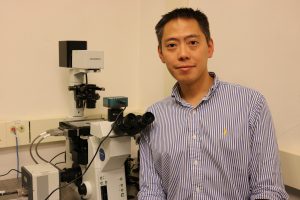 Lu received the Early Career Engineering Faculty Research Award at the college convocation. His research is focused on optical sensors, biomedical imaging, sensors for molecular diagnostics and photonic devices.
Lu recently received the NSF CAREER Award for a project that aims at developing next generation diagnostic technology using an engineered paper strip, possibly lowering health care system costs. He is the principal investigator for ISU's Laboratory of Integrated Optical Sensors (LIOS), which sponsors research for undergraduate and graduate students from electrical engineering, mechanical engineering and materials science and engineering. In 2015, he received the 3M Non-Tenured Faculty Award. Lu has also authored and co-authored more than 80 journal and conference papers.
"I am honored and excited to receive the recognition from our college," Lu said. "I would like to thank my colleagues of ECpE and mechanical engineering for their continuous support."
For a full list of honorees at the COE Convocation, click here.