It is not uncommon for children to go to the same university as their parents, but not many students can say they go to school with their parent.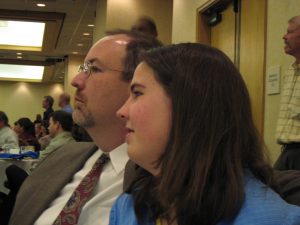 Bill Kincaid, while living in the town of Monument, Colorado, is currently getting a master's degree from the Iowa State University Department of Electrical and Computer Engineering (ECpE), focused on information assurance. At the same time, his daughter Jennifer Kincaid is living in Ames, also studying engineering at Iowa State.
"Studying engineering with Jenn has been really fun. I came with her the first time she registered for classes and went through orientation," Bill said.
After receiving a bachelor's degree in finance from Kean University in New Jersey, Bill went on to work as a systems engineer at Electronic Data Systems (EDS), in Plano, Texas. He then went on to create Kincaid Technologies, Inc., which provides enterprise switching solutions and point-of-sale systems integration services for the electronic payment industry. 
Before it was sold, Kincaid Technologies was a 40 employee, $3.8 million success. At one time, it was the largest private financial network in the U.S.
"Generally in the electronic payment industry I am considered an expert, and within the last two years was called a 'Founding Father' of electronic payments by what used to be a competitor of mine," Bill said. "While at EDS, I worked on what is now DNS for the internet and installed some of the first few multi-thousand-people LAN systems, so I have been doing leading edge work for a while. In fact, I would admit that if I am not solving any particularly difficult problems, I get bored and want to move on to something challenging."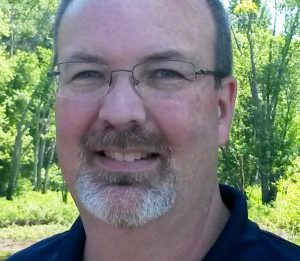 After selling his company, Bill felt he did not have credentials like his peers and decided to go back to school for his master's degree.
"Three major factors contributed to me studying engineering at Iowa State. First, my best friend was a graduate of Iowa State and has always spoken highly of his experience," Bill said.
"Second, I was looking for the best online school in engineering but one focused on providing students 'hands-on' practical experience. Third, I needed a school to work with me around my schedule. DSU and my professors Dr. [Doug] Jacobson, Dr. [Tom] Daniels and others have been very good to me."
Having a program that could accommodate Bill's busy work and travel schedule was an important factor for him when he was looking for a distance program.
"I think it's important to be respectful of distance students' needs. He was a very dedicated and professional student while I worked with him," Daniels said.
Jacobson agreed and went on to say, "I've had numerous phone conversations with him [Bill], and he has always been very engaging and fun to have in class."
Because of the classes Bill has taken at Iowa State, he was able to get his Certified Information Systems Security Professional (CISSP) accreditation. Bill is also accredited in Payment Card Industry (PCI), Point-to-Point Encryption Qualified Security Assessor (P2PE QSA) and Payment Card Industry Professional (PCIP), thanks to his classes at Iowa State.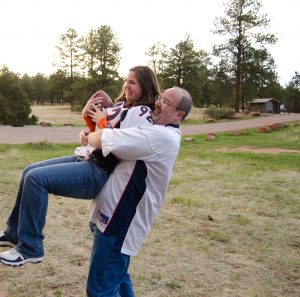 On any given Sunday, you can find Bill and his daughter spending their days together. With Jennifer in Ames, their tradition continues with the help of technology. The pair always "Skype" on Sundays to watch a Broncos game together.
Jennifer is a junior studying materials engineering, and was drawn to ISU's engineering program because of her father.
"My dad was actually already a student here, and he mentioned it to me when I was applying for college," Jennifer said.
"I saw the numbers for the program–job placement rate after graduation above 95 percent and 70 percent have a job lined up before they graduate–and thought it was astonishing," Jennifer said. "I remember thinking, 'They must have a well-respected program to have so many students and have those numbers."
As a lover of chemistry, Jennifer was unsure whether she wanted to study chemical engineering  or materials engineering. After meeting with advisors from both departments, she finally decided on materials engineering.
"I knew I wanted to do materials engineering because it is more hands-on and still uses the chemistry that I thoroughly enjoy," Jennifer said.
Jennifer works as an undergraduate researcher with five others to assist graduate students of Adjunct Professor of Materials Science and Engineering, Iver Anderson.
"We polish samples for the graduate students that work under Professor Anderson," Jennifer said. "We also help with anything the metal powder group needs to further processes they are working on to perfect."
Jennifer has a particular interest in the biomedical field and finding materials to work in human bodies, like creating new organs or prosthetic.
"I want to make a difference in the world someday, and I believe I can accomplish that with a degree in materials science engineering," Jennifer said.
On Sept. 19, the father-daughter duo attended the College of Engineering Career Fair, where Bill was not only was helping himself, but helping his daughter.
"I don't think Jenn could be any happier with her choice of Iowa State University, both scholastic and community experience in Ames," Bill said. "I am so very pleased, as her father, to see her both happy and successful in the present, while she studies and gains valuable work experience to prepare for her future."