This article was published on Iowa State University's New Services website. Click here to read the full article.
By Teddi Barron 
AMES, Iowa — An Iowa State alum and U.S. Air Force general who develops and evaluates requirements for Air Force-wide modernization programs at the Pentagon will speak at Iowa State University.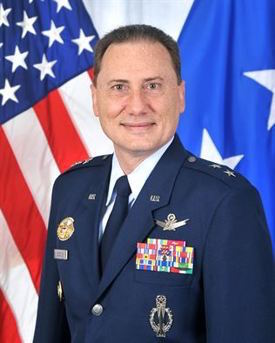 Maj. Gen. Clinton Crosier will present "National Defense and International Security" at 7 p.m. Monday, Oct. 9, in the Memorial Union Great Hall. His public talk is free and part of the university's World Affairs series.
Crosier is director of operational capability requirements and deputy chief of staff for strategic plans and requirements for the Air Force. He creates and assesses the needs for modernization plans for fighters, bombs, space systems, missile defense and cyber requirements. He also directs and supervises more than 110 military and civilian employees in seven divisions.
Crosier has a broad range of experience in intercontinental ballistic missile and space operations, including a deployment to the Middle East as the U.S. Central Command director of space forces. His assignments include staff positions in the U.S. Senate, Office of the Secretary of Defense and Air Force Global Strike Command.
Prior to his current assignment, Crosier was the director of plans and policy at U.S. Strategic Command, Offutt Air Force Base, Nebraska, where he oversaw the development and implementation of national security policy and military strategy, as well as development of the nation's strategic war plan.
Crosier attended ISU on an Air Force ROTC scholarship and was commissioned in 1988 after receiving his degree in aerospace engineering.
Crosier's presentation is co-sponsored by the military science department, political science department, World Affairs committee and the Committee on Lectures, which is funded by Student Government.
More information on ISU lectures is available online, or by calling 515-294-9935.