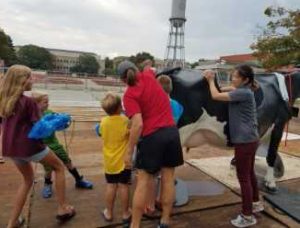 Over 900 people attended the second annual STEM Fest on Saturday, September 16 in Howe Hall.
The event, hosted by the program for Women in Science and Engineering, is open to the public each year, with a special emphasis on the involvement of the area's elementary school age children.
WiSe designed the festival to engage the community in STEM exploration, showcase some of the educational resources Iowa State has to offer and highlight local STEM companies, according to Janice Crow, WiSE Assistant Director for Outreach Programs.
"STEM Fest provides an opportunity for Iowa State students and clubs to show community members about all the different research and activities that are happening at Iowa State," Crow said.
STEM Fest was first held in 2016 as a community outreach event in honor of the WiSE 30th anniversary celebration, according to Crow
Iowa State departments, student clubs and local businesses and organizations provide STEM related activities for STEM Fest participants.
"Attendees at STEM Fest have a unique opportunity to see the connection between the math and science they're learning now, a college major they could pursue in the future, and a company making products that impact their daily lives," Crow said.
Some of the hands-on activities at this year's STEM Fest included robotics, a simulated calf birth, virtual reality, tractors, an insect zoo and 3-D printing.
"My favorite part was seeing kids having fun and being excited to participate in the activities. Having Cy visit and interact with the participants throughout the day is a close second," Crow said.
Free ice cream was provided by the ISU Dairy Science Club, and free face painting was done by Joyful Colorz Face Painting, courtesy of The Program for Women in Science and Engineering (WiSE).
"Based on the number of people who attended, and very positive feedback from kids and families who attended as well as from the people who hosted booths and provided activities, I think this year's STEM Fest was very successful," Crow said.
For more information about STEM Fest, or to find out how to get involved in next year's event, visit the WiSE website at wise.iastate.edu/outreach/stem-fest or contact Janice Crow at jrcrow@iastate.edu.