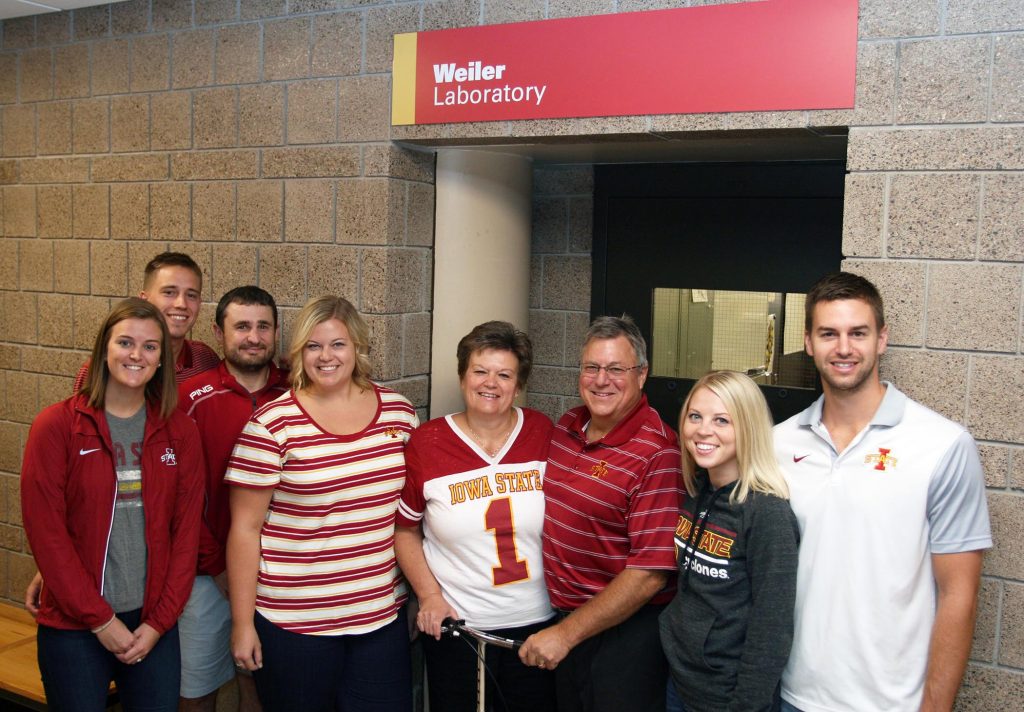 Being a Cyclone runs in the blood for the Weiler family.
Patrick Weiler graduated with a BS in agricultural engineering in 1980 and established Weiler in Knoxville, Iowa in 2000. He has not only been supportive of his alma mater since leaving campus but has also encouraged his children to attend the university he knows and loves.
"Because of my desire to pursue engineering and to stay somewhat close to home, Iowa State was a natural fit for me when choosing where to pursue my undergraduate degree," said Weiler's youngest daughter Katelyn (Weiler) Freeseman ('12 civil engr). "My favorite Iowa State memories involve tailgating. As the youngest of my siblings, I remember coming up for football games when Megan and Joel were students at Iowa State. That tradition continued during my years at Iowa State and we have kept up the tradition long after we all graduated."
Weiler's eldest daughter Megan (Weiler) Green ('06 finance) echoed her sister's sentiment.
"My favorite memories from my time at Iowa State all center around tailgating," said Green. "When I attended Iowa State, it was the perfect excuse to catch up with the rest of the family and now that I've graduated, it's the perfect excuse to come back to Ames. When I was looking at schools, I truly leaned against attending Iowa State because of the family connection, but I couldn't look past the incredible opportunities the school provided and it was certainly the right decision for me."
Brother Joel was in line with his siblings in agreeing that some of the greatest memories of his time at Iowa State centered around Cyclone athletics.
"My favorite memories from Iowa State are in Hilton and Jack Trice.  The ups and downs of Iowa State athletics have given me a lot of opportunities to make memories with friends and family over the years.  I also met some life-long friends and my wife while attending Iowa State, so thanks for that," said Joel Weiler ('10 nutr sci). "My father attending Iowa State, a scholarship opportunity, and strong human science programs were all influential in my decision to attend Iowa State."
Megan, Joel, Katelyn, and the rest of the Weiler family were recently on campus for the Cyclones' season opener against the University of Northern Iowa. During this time, they toured the Weiler Laboratory and other facilities in Black Engineering Building. The Weiler Laboratory was named after the family in 2016. The 596-square-foot teaching lab includes computers and Haas CNC simulators for ME 324: Manufacturing Engineering.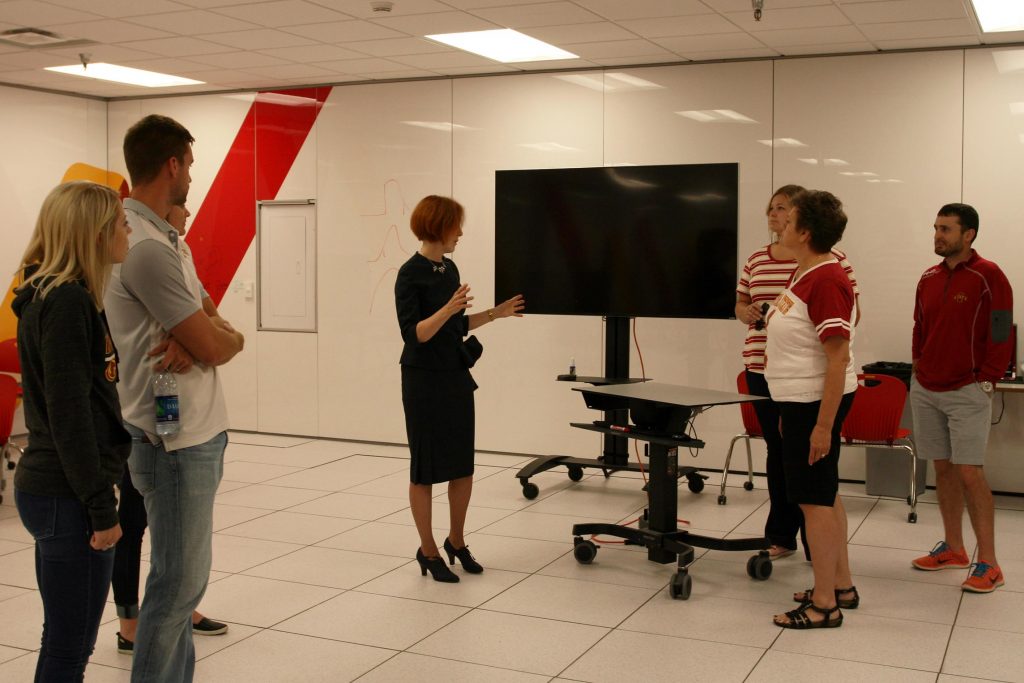 "Students choose engineering so they can become high-tech professionals," said Caroline Hayes, chair of Iowa State's Department of Mechanical Engineering, which is housed in Black Engineering Building. "You can't get there with yesterday's technology. The Weiler's gift allows us to keep our manufacturing education focused on the future."
The Weiler family said they liked what they saw during their visit back to campus.
"The engineering labs were quite impressive," said Green who works as Counsel and Procurement Manager for Weiler. "You can tell that the faculty are motivated to provide space where students can flourish and get the most out of their time at Iowa State. Companies are increasingly focused on collaborative work environments, so these areas will prepare students well for the future."
Freeseman, who is an adjunct assistant professor of civil, construction and environmental engineering and also serves as a research engineer with the Institute for Transportation, was also impressed by the facilities.
"While I have used lab spaces in other buildings on campus, I had never been in Black Engineering prior to our visit. I am continuously impressed by the improvements that are being made to campus to keep Iowa State's reputation as a top science and technology university."
Joel Weiler, a dentist for Recker Dental Care in Pella, said he thinks that students will enjoy the renovations.
"Comparing the existing lab space with the renovated labs was very impressive. The project clearly has a vision and is resulting in a much more inviting and modern place to learn. Being in the old lab was a little nostalgic though – reminded me of some of my old classrooms in other buildings on campus," he said.
Gül Kremer, C.G. "Turk" & Joyce A. Therkildsen Chair of the Department of Industrial and Manufacturing Systems Engineering housed in Black Engineering Building, said that contributions such as those from the Weilers help to elevate the value of an Iowa State education.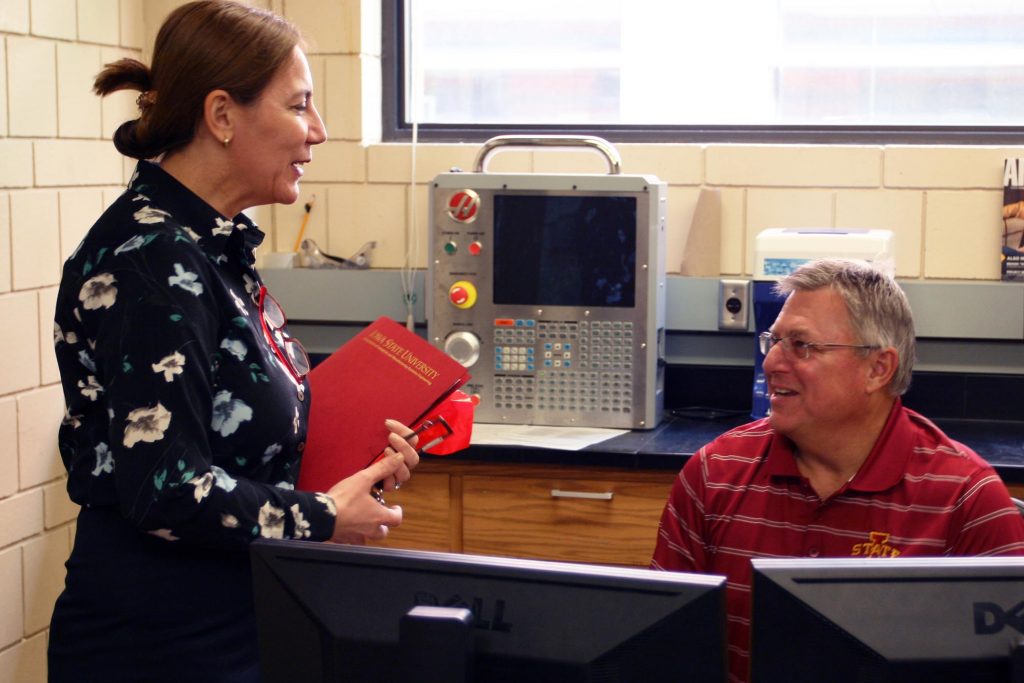 "We are grateful to the Weiler family for their generous donation to the Black Engineering Building ME-IMSE joint learning laboratories. It's contributions like theirs that allow our students to pursue their passions in outstanding facilities, surrounded by world-class faculty. The role alumni and donors play is crucial in helping our students succeed," Kremer said.
As alums of the university, the Weilers said they are proud to help support future generations of Cyclones through their financial contributions.
"We all have a great sense of pride in being able to give back to the Iowa State community and to improve the experience of future students. We hope students will see our family's name outside of the lab and be encouraged to give back themselves when the time is right," said Green. "Our family has many great memories of our time at Iowa State which provides an emotional reason for our support. But the practical reason is that we want to support the next generations of engineers who can lend their talents to Weiler, the state of Iowa and the U.S. at large. Elevating the value of an Iowa State education is a benefit to every alum."
Another way that the Weiler family likes to support students and future engineers is by offering tours of their Knoxville manufacturing facility where road pavers, Material Transfer Vehicles, and other heavy equipment is designed and assembled. For more information and to arrange a visit, contact Weiler here.
For more information about supporting Iowa State University with your own gift please contact Ryan Harms, Executive Director of Development, at rharms@foundation.iastate.edu or 515.294.0743