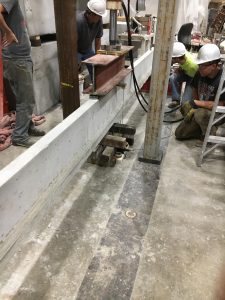 ISU CCEE students took 4th place in this year's Engineering Student Design (Big Beam) Competition. The competition received 24 concrete beam reports. Each concrete beam submitted measured 22 feet in length. More teams compete by submitting designs alone (excluding the big beam). According to competition rules, students must include information related to the structural design and the concrete mixture proportions for their team's submission.
"We're very excited to place in the 2017 Big Beam Competition," said Chris Levandowski, the captain for ISU CCEE. "Our entire team worked hard throughout the spring and summer, and it's rewarding to see that hard work pay off."
ISU CCEE student team members include Levandowski, Nathan Ryan, Jacob Eull and Connor Schaeffer. Iowa State University Assistant Professor An Chen is this year's faculty advisor to the ISU CCEE Big Beam Team. Thank you to Forterra Pipe and Precast, the PCI producer for the team's submission, with Jeff Butler being the advisor for the producer. First place overall in the competition went to Saint Martin's University of Lacey, Washington.
To read more about the competition, visit the press release.