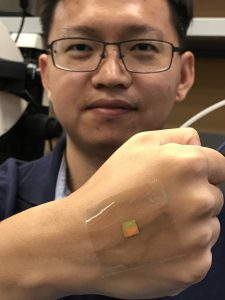 Iowa State University Department of Electrical and Computer Engineering (ECpE) Associate Professor Liang Dong has collaborated on two projects recognized this summer at the 17th Institute of Electrical and Electronics Engineers (IEEE) International Conference on Nanotechnology (Nano 2017) in Pittsburg, Pa., and the 19th International Conference on Solid-State Sensors, Actuators and Microsystems (Transducers 2017) in Kaohsiung, Taiwan.
The first project, "Tape-based Flexible Metallic and Dielectric Nanophotonic Devices and Metamaterials," was awarded Best Student Paper at IEEE Nano 2017 and was written by Dong, ISU ECpE Assistant Professor Meng Lu and students Qiugu Wang, Weikun Han and Yifei Wang. The paper discusses a multifunctional nanotransfer printing method to manufacture nanophotonic sensors and other optical devices based on a simple stick-and-peel procedure.
This technique allows a fast production of multiple optical devices using Scotch tape and can reduce the cost for fabricating nanodevices, making the technique a promising alternative to the current industrial lithography-based method.
One of Dong's students, Qiugu Wang, said the technique was quickly developed, but finding different ways it could be applied took a long time.
"We have exerted ourselves in this project for about one and half years, and I'm proud of our research team that our work is recognized and respected by our peers," Wang said. "Winning this award is a remarkable feeling."
Dong said he was very happy to see Wang's research awarded as the sole Best Student Paper at the IEEE Nano Conference.
"This technology has provided a versatile platform to realize various types of wearable and highly flexible nanophotonic devices for biochemical sensing, imaging and optical emission applications," Dong said. "I am glad that Qiugu's work was recognized."
The second project, awarded Outstanding Paper Award Finalist at Transducers 2017, is titled, "In-situ, Real-time Monitoring of Nutrient Uptake on Plant Chip Integrated with Nutrient Sensor." Paper contributors include Dong, Postdoc Research Associates Huawei Jiang and Azahar Ali, Genetics Development and Cell Biology Associate Professor Bing Yang and student Yueyi Jiao.
This project involves embedding multiple microscale sensors into a microfluidic plant chip to detect concentration variations of target nutrient ions in organisms, such as rice plants, in a continuous manner. The nutrient reduction in the plant chip indicates the nutrient uptake by the plant, allowing real-time monitoring of nutrient-use efficiency to be recognized on the plant chip.
"The unique integration of microscale nutrient sensor arrays into plant chips has provided a platform to facilitate studying how the plants could uptake nutrients for what they need from the environment," Dong said. "This will allow plant scientists and biologists to develop improved plant genotypes for better adaptation to nutrient deficiency stresses with high yield. I am proud of this achievement and grateful to be recognized."