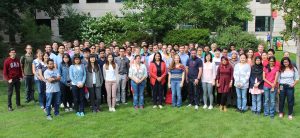 A record number of graduate students are being welcomed by Iowa State's Department of Chemical and Biological Engineering this fall, with 85 individuals from more than a dozen countries pursuing advanced degrees in chemical engineering. Twenty of the students are new to Iowa State this semester.
Both new and returning graduate students gathered recently for the kickoff Graduate Seminar Series event, where all are introduced, along with department faculty and staff, and the schedule for the coming year's Graduate Seminar Series, which features researchers from around the nation, is announced.
"We are thrilled to reach this new record number of graduate students enrolling in our programs," said Reginald R. Baxter Endowed Department Chair Andy Hillier. "Increasing graduate student enrollment is a priority set by the Department and the College of Engineering, so we are delighted to be able reach this milestone, and plan to continue with further growth."
"The rising number of applicants to our graduate program shows that Iowa State is being recognized as a major force in the realm of chemical engineering higher education," remarked Dr. Eric Cochran, the department's Director of Graduate Education.
The department also hosts 20 post-doctoral researchers and visiting scientists and two interdisciplinary graduate students.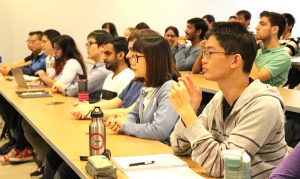 Chemical Engineering graduate students at Iowa State utilize research facilities in both Sweeney Hall and in the Center for Biorenewable Chemicals (CBiRC). In calendar year 2016 the department saw $9.35 million in total research funding. The department currently has an average of nearly 4 graduate students per faculty member with an average of two years to graduation for master's degree candidates and 4.5 years to graduation for those in the Ph.D. program.
The record crop of graduate students come to Iowa State from the United States, and also from countries that include Bangladesh, China, Germany, India, Iran, Indonesia, Italy, Mexico, Saudi Arabia, South Korea and Taiwan.