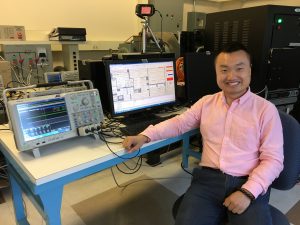 Zhaoyu Wang, Iowa State University Assistant Professor of Electrical and Computer Engineering (ECpE), recently was awarded the Harpole-Pentair Professorship, which recognizes and honors outstanding junior faculty with less than six years of academic experience at Iowa State. The award was created by Murray J. and Ruth M. Harpole in 1986 to provide supplemental support and enrichment opportunities for young assistant professors.
"[The professorship] recognizes his exemplary academic accomplishments at this early stage of his career," said ECpE Palmer Department Chair Ashfaq Khokhar.
In the two short years he has taught and researched at Iowa State, Wang has worked on many projects and received millions of dollars in grants, including a recent $1.4 million award from the United States Department of Energy (DOE) to improve the country's power grid. He currently has 11 ongoing projects as principal investigator (PI) and co-PI, including applying for grants from the DOE, National Science Foundation (NSF), Power Systems Engineering Research Center (PSERC) and others.
"Professor Wang's recent appointment to the Harpole Pentair Professorship is a very well deserved recognition; it is also a way for the university to invest in Dr. Wang's rapidly growing research program in smart grids and distributed energy systems," said Distinguished Professor James McCalley, Wang's department-appointed mentor. "In just two years, Dr. Wang's program has become one of the most highly funded in the college, providing a strong signal that efforts to broaden research in electric power and energy infrastructure will provide healthy returns to the university for years to come."
Wang is passionate about the areas of electric power and energy systems and infrastructure and improving the nation's power grids.
"This is very important for national security and economic development. It's also important to our daily life. We cannot work or live without electricity," Wang said. "The problem with the current power grids, like any other infrastructure in the U.S., is they are outdated. Our economy and technology are changing… Our power grids were built decades ago, which are less efficient and difficult to accommodate renewable energy resources. It's vulnerable to cyber and physical attacks. What we want to do is to use our research to make the power grids more resilient, efficient and environmentally friendly."
Wang credits Iowa State senior professors, Palmer Department Chair Ashfaq Khokhar, McCalley, Sandbulte Professor Ian Dobson and Nicholas Professor Venkataramana Ajjarapu with helping him gain early success and receiving the Harpole-Pentair Professorship.
"[McCalley] shares his experiences and gives me good directions of where to go and how to deal with different problems or difficult situations," Wang said. "He helps me correct the way that I am doing research and supervising the students. Professor Dobson and I have dinner and lunch frequently. We have a joint NSF project, which is my first NSF project. We are writing that proposal together, and I am learning a lot from him. I really respect his way of doing research as a true scholar, and I hope I can become someone like him in the future."
Dobson echoes Wang's praise.
"It is a pleasure to work together with younger colleagues at Iowa State, and Zhaoyu shares my interests in electric power grid resilience and is a nicely energetic collaborator," Dobson said.
Wang also works with Ajjarapu as part of Iowa State's Electric Power and Energy Systems (EPES) group.
"Our group is very fortunate to have Dr. Zhaoyu Wang," Ajjarapu said. "He is already establishing himself as a leader in his field of specialty. I am confident he further increases our EPES group visibility."
Wang relies on Ajjarapu to show him the professional side of the job.
"We have a joint PSERC project, and I enjoy working with him a lot," Wang said of Ajjarapu. "He is very helpful in doing research. He is very serious, especially when doing interactions with industry. I have learned how to interact with industry from him."
Economics Professor Leigh Tesfatsion and Electric Power Research Center (EPRC) Director Anne Kimber are two additional influential people to Wang's success. Both have helped him with his projects and grants, as have his students.
"All of my students are smart and hardworking," Wang said. "They are highly motivated for their research. I like my students, and they are doing very well."
When he's not researching, Wang teaches a few different classes to graduate and undergraduate students — Power Systems Analysis, Introduction to Energy Distribution Systems and Energy Systems and Power Electronics — and he also supervises one senior design team every semester.
"I am very pleased that Zhaoyu has been honored this way," Kimber said. "From the moment he first joined the power group at ISU, we have worked together to build research collaborations with Iowa utilities, such as Algona Municipal Utilities, Alliant Energy, the City of Ames, Cedar Falls Utilities, MidAmerican Energy and Maquoketa Valley REC. These collaborations help all of us: Utilities needing a reliable research partner to solve problems, and the power group seeking to understand power industry challenges. Zhaoyu is ideally suited for this kind of work, and it's so enjoyable to work with him because he's dedicated and enthusiastic and really cares about the outcomes."
Wang came to Iowa State in August 2015 after finishing his Ph.D. in electrical engineering at Georgia Institute of Technology. Previously, he received his master's and bachelor's degrees from Georgia Institute of Technology and Shanghai Jiaotong University. In just two years at Iowa State, he has already made an impact on the ECpE power group, and he has learned a lot from his team.
"I receive a lot of support from the department, the college, the EPRC and our senior professors. I'm new, and I need their help to get me started. But especially the power team — we all work together on everything. We are like a family," Wang said. "I highly appreciate this professorship, because it's a prestigious honor to me. It encourages me to do better and better in the future."