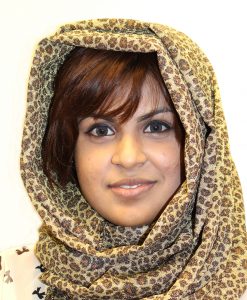 Iowa State chemical engineering graduate student Fatima Enam has become one of the first recipients of a new award that recognizes research in the use of fluorescent proteins.
The Michael Davidson and Roger Tsien Commemorative Travel Award has been developed by the Addgene plasmid research repository blog to help individuals share their efforts in fluorescent protein research with the academic community and to fund travel to a conference of interest. Iowa State's Enam, along with Xin Zhou, a researcher at Stanford University, are the first awardees.
Enam, whose major professor is the Department of Chemical and Biological Engineering's Dr. Thomas Mansell, was recognized for her research with biosensors for Human Milk Oligosaccharides (HMOs). They are thought to play an important role in nurturing the development of beneficial bacteria in the gut of newborns.

The announcement of the award states that one of Enam's ultimate goals is to engineer bacteria for the efficient production of HMOs that could be used to supplement newborn diets and promote the formation of a healthy microbial environment. She presented a portion of her work at the American Chemical Society National Meeting & Exposition in April of 2017 in San Francisco.
In regard to the award, the Addgene blog page states, "There were many excellent applicants, but Xin and Fatima stood out for their creativity in the use of fluorescent proteins and the potential for their work to enable future discoveries."
Read the full announcement on the Addgene blog.