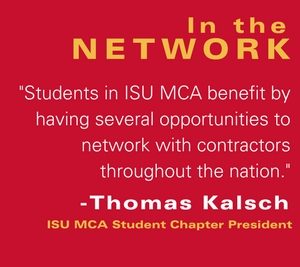 Iowa State student organization plans events, scholarships made possible through grant from national association
This month, Iowa State University's Mechanical Contractors Association (ISU MCA) Student Chapter earned a 2017 Chapter of Excellence Grant from the Mechanical Contractors Association of America (MCAA). The grant totals $7,500 and will be used for student scholarships and chapter operations.
Thomas Kalsch is the president of the ISU MCA Student Chapter. Kalsch, who has taken on various leadership positions in the organization since joining three years ago, knows the impact of membership.
"Students in ISU MCA benefit by having several opportunities to network with contractors throughout the nation," he said.
Kalsch describes ISU MCA meetings where contractors share their job experiences with members. The organization takes part in job site visits of active work sites. They even take part in the MCAA Great Futures Forum and MCAA national conventions.
"Thanks to the large amount of opportunities that we offer, a vast majority of our students easily find internships, co-ops and full time positions," he explained.
Brad Perkins is a construction engineering lecturer at ISU's Department of Civil, Construction and Environmental Engineering. He also advises the ISU MCA Student Chapter. Perkins backs up Kalsch's statements –especially when it comes to earning scholarships and gaining industry knowledge.
"[ISU MCA] allows students to make an informed decision so that, when they pick their job out of Iowa State, it's not just a job, but the job that they want," Perkins said of the organization's networking events.
The student chapter of ISU MCA earned a MCA Chapter of Excellence Grant in 2016 as well as previous years.
---
If you are interested in up-to-date news concerning civil, construction and environmental engineering student organizations at Iowa State, check out our Facebook, Twitter and LinkedIn pages (Iowa State University Civil, Construction and Environmental Engineering and ISUConE).