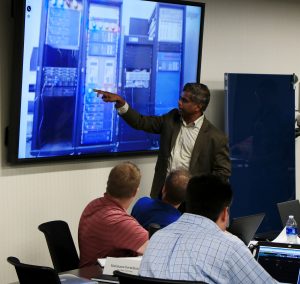 Earlier in July, the Iowa State University (ISU) Electric Power Research Center (EPRC) arranged cyber security trainings at Cedar Falls Utilities, Central Iowa Power Cooperative (CIPCO) and MidAmerican Energy, all members of the EPRC. Sixty-five representatives attended the three trainings, which included not only staff from the three host utilities, but also CIPCO distribution cooperative staff and staff from Waverly Utilities. The trainings were provided by ISU Electrical and Computer Engineering Department Associate Chair Manimaran Govindarasu and his team of students: Bruce Wang, Vivek Singh, Steven Perez and Jacob Drahos.
Govindarasu introduced the training activities, and students assisted the teams with the three-hour, hands-on hacking exercises, when they used several commonly available tools to hack into ISU's power grid cyber security lab (PowerCyber) to access the lab's supervisory control and data acquisition (SCADA) system and ultimately disable substation relays. Video cameras in the lab enabled the participants to observe when the relays had been tripped and also protected from attacks.
Participants commented that they enjoyed the hands-on training that enabled them to hack into a virtual substation. Future trainings are available for other regional utilities, and advanced trainings to recreate the Ukrainian power grid cyber security incident are also available.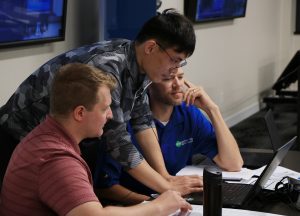 Govindarasu's research team is funded by major research grants, awarded by the U.S. National Science Foundation, U.S. Department of Homeland Security and the U.S. Department of Energy, to develop and evaluate advanced cyber security tools to harden power grids. He is working with Iowa utilities as research partners in this project. Govindarasu and EPRC are also developing a workshop this fall in collaboration with United States Agency for International Development (USAID) and National Association of Regulatory Utility Commissioners (NARUC) for cyber security training for utility personnel from several countries bordering the Black Sea. 
Iowa State's EPRC works with utilities to advance research and graduate education in electric power systems and to strengthen power industry ties to ISU.
For more information, contact Govindarasu at gmani@iastate.edu or Anne Kimber, EPRC director, at akimber@iastate.edu.