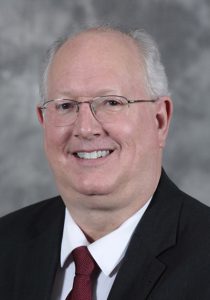 Department of Chemical and Biological Engineering (CBE) communication specialist John Burnett-Larkins has become a member of Iowa State's Professional & Scientific Council. He becomes the second person in CBE to serve on the council, with academic advisor Tonia Baxter elected to the group in 2016.
Burnett-Larkins' membership on the council became official with its July meeting. He is replacing a member who stepped down due to leaving employment at Iowa State. That individual represented the College of Business in the division of Academic Affairs, and Burnett-Larkins will represent the same constituents. In addition to CBE's Baxter, the College of Engineering is also represented by Emily Bowers, an academic advisor in Civil, Construction and Environmental Engineering; and Amanda Rasmusson of Engineering-Las Online Learning, both of whom were elected to the council in April.
Burnett-Larkins will also serve on the group's communications committee. "I'm very honored to be able to join the P&S Council and look forward to being a voice for all Iowa State Professional & Scientific staff members, and to help this great organization continue to move forward," he said.
The Professional & Scientific Council serves as a resource for all Iowa State Professional & Scientific employees. It identifies the needs of its constituents, provides information and advice in response to those needs, and recommends policies and procedures to the administration that benefit P&S employees and assist in fulfilling the mission of Iowa State University.
All P&S employees are invited to attend any monthly meetings of the council.