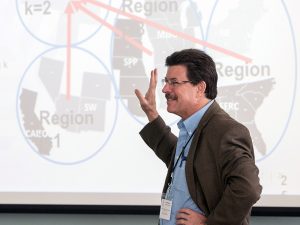 Iowa State University Anson Marston Distinguished Professor in Engineering Jim McCalley and his research team are studying United States power grids, looking at moving power to and from the country's Eastern and Western grids. With today's production of wind energy in the prairie states and solar energy in the desert states, McCalley, of ISU's Electrical and Computer Engineering department, said there is strong economic motivation to move power to and from the primary grids. 
"In Iowa, about 35-percent of our electricity is renewable energy. If we want the rest of the country to be at 35-percent renewable energy, this is what you want to do," McCalley said. 
McCalley's team is also working with researchers from national laboratories and the utility industry, including Argonne National Laboratory, Oak Ridge National Laboratory, Midcontinent Independent System Operator, Southwest Power Pool and Western Area Power Administration.
Read Iowa State's News Service coverage here: http://www.news.iastate.edu/news/2017/07/06/seamsstudy