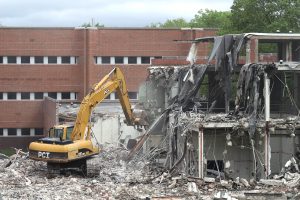 The demolition of Old Sweeney Hall, the original home of Iowa State's chemical engineering department, was carried out May 17 & 18. An addition that was later installed and enjoins the current Sweeney Hall remains standing, and will be demolished at a date to be determined.
The Nuclear Engineering Building, originally constructed as an additional chemical engineering facility, was also demolished May 15, 16 & 17. Both structures have been leveled in preparation for construction of the Student Innovation Center, which is tentatively scheduled to be opened in early 2020.
An album of photos of the demolition of both buildings can be viewed on the Department of Chemical and Biological Engineering (CBE) Facebook page. The project can also be tracked in real time with web cams on the university's Facilities Planning & Management web site.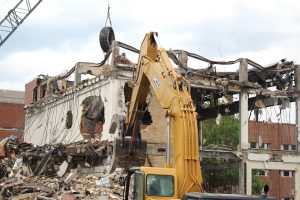 Originally called the Chemical Engineering Building, Old Sweeney was opened in 1927 and allowed full autonomy for the Department of Chemical Engineering, which originally was a joint effort with the Department of Chemistry. When it opened a headline in the Des Moines Register proclaimed "Iowa's prosperity may be determined in this building."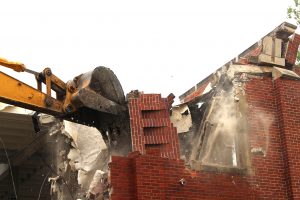 Inside its walls Orland Russell Sweeney, first head of the department, conducted research in many areas and produced many materials with commercial applications. Just a few of those projects Sweeney, fellow researchers and students developed in the building included Maizewood, an insulting board made from cornstalks, which was demonstrated at the Chicago World's Fair in 1933; hardwood made from cornstalks; Maizolith, or "cornstone," a product that could be processed into a substance with great strength; and furfural, a compound of formic acid made from corncobs that had many uses in manufacturing products. The building featured a large open bay in the center to adequately house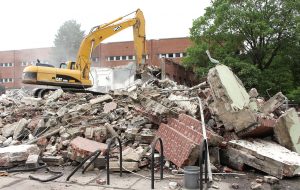 equipment needed by Sweeney to produce his products, a hand-operated elevator and a much-heralded "fire pole" for quick exit from the second floor in the event of fire (but which was often used on the sly as an alternative to the elevator or stairs).
The West Chemical Engineering Building opened in 1935 as a U.S. Department of Agriculture facility and housed research and production of agricultural bi-products, the primary focus of Sweeney for many years. The structure later became home to the Nuclear Engineering Department.
In more recent years Old Sweeney played host to many different university projects and organizations, including serving as the home of the PrISUm solar car team. CBE emeritus professors George Burnet and Tom Wheelock, who spent many years working in Old Sweeney, shared recollections of the structure in a feature story entitled "Before the wrecking ball, memories of 'Old Sweeney' have their time."