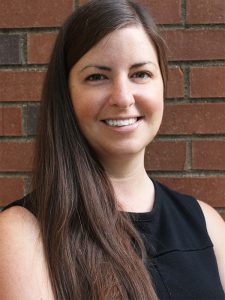 Academic Advisor Emily Bowers takes up duties as councilor representing Iowa State University staff
The civil, construction and environmental engineering department at Iowa State University congratulates Emily Bowers on her recent election to the university's Professional and Scientific (P & S) Council.
Bowers is an academic advisor of civil and construction engineering students. She is excited to "have a voice" on the council, where she will advocate for the interests of staff members.
"I've really enjoyed being a part of the Iowa State Community, and I've felt very welcomed in a lot of the things that I've done," Bowers, who began working at ISU in the spring of last year, said. "I want to give back and be able to represent other P & S staff."
Council members represent five areas of the university, including Academic Affairs, University Services, the President's Office, Student Affairs, and Finance. Bowers will represent the Division of Academic Affairs while on council. Overall, she wants people to feel they can contact her … via phone, email, or just by dropping in at her office … to discuss issues that interest them.
"We want to be available to make sure that we're representing the staff in our areas," she said of both herself and her fellow councilors.
Contact Bowers via email at ebowers@iastate.edu. More contact information is located on her directory page. Newly-elected councilors will take part in their first council meeting on May 25. Elections for P & S Council were held earlier this spring. Term limits are three years, with the option to run for re-election once. For more information, see the P & S Council Election Website.