The Center for Nondestructive Evaluation has announced the appointment of three new associate directors, Prof's Peter Collins (MSE), Stephen Holland (AerE) and Simon Laflamme (CCEE).
These appointments aim to strengthen CNDE's faculty engagement and growth in activities as it moves forward in alignment with both the University and College level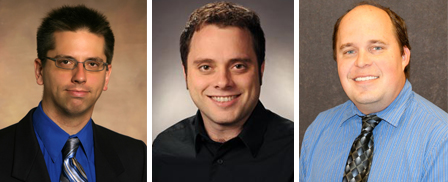 grand challenge theme in advanced materials and manufacturing. In addition, the new associate directors will also improve activities that relate to use of advanced NDE in enabling sustainable infrastructures and energy systems.
Professor Peter Collins, associate professor of materials science and engineering, will lead activities in material state awareness, with an emphasis on aspects of metrology and materials science as they relate to additive manufacturing.
Professor Stephen Holland, associate professor of aerospace engineering, will work on digital data tools including digital twin and data fusion.
Professor Simon LaFlamme, associate professor in civil engineering will be looking at accelerated condition assessment, going beyond topics that are currently covered in more conventional, structural health monitoring.
Director of CNDE, Prof. Leonard Bond will continue to provide direction and leadership in advanced NDE. Together the team will work to engage CNDE clients and sponsors in an agenda for growth in partnership with the P&S researchers and students.
CNDE is working to maintain a core of advanced experimental tools, modeling and simulation and digital data tools which form the heart of advanced (traditional) NDE and engaged in three growth areas, Material State Awareness, Accelerated Condition Evaluation (AKA Structural Health Monitoring) and Digital NDE.