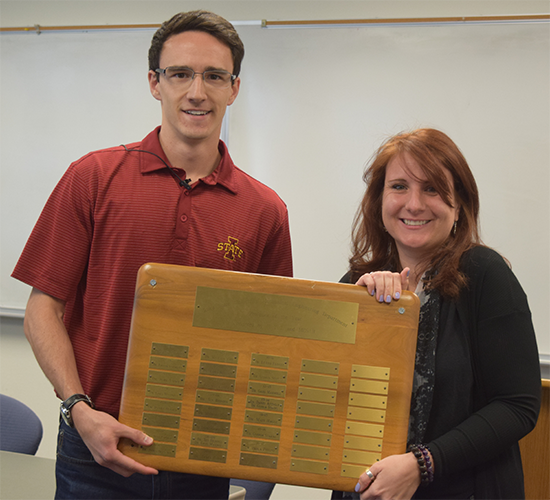 Mechanical engineering lecturer Paola Pittoni has been named the 2016-17 ME Professor of the Year.
The award was presented during a ceremony on April 24 by members of the Iowa State chapter of Pi Tau Sigma, a national mechanical engineering honor society. This award has been given out every year since 1993 and is voted on by graduating seniors.
"I was so happy and so proud about receiving this award," said Pittoni. "I wasn't expecting this at all. I walk past that placard every morning and I look at the names of all of the great teachers. I never thought that I'd be lucky enough to be among them."
This semester Pittoni taught ME 160: Mechanical Engineering Problem Solving with Computer Applications which is an underclassmen course as well as ME 436: Heat Transfer for the upperclassmen. Pittoni's passion isn't in just teaching, but she specifically likes to work with the undergraduate students.
"I think the undergrad years are the most formative ones because it's the moment in which students really don't know things but you begin to learn things and when you graduate you're kind of an expert with some stuff. When you're an undergrad you're just absorbing everything like a sponge."
Pittoni holds a BS in energy engineering from Politecnico di Milano in Italy and a PhD in chemical engineering from National Taiwan University of Science and Technology in Taipei. She has been teaching at Iowa State since January 2015.