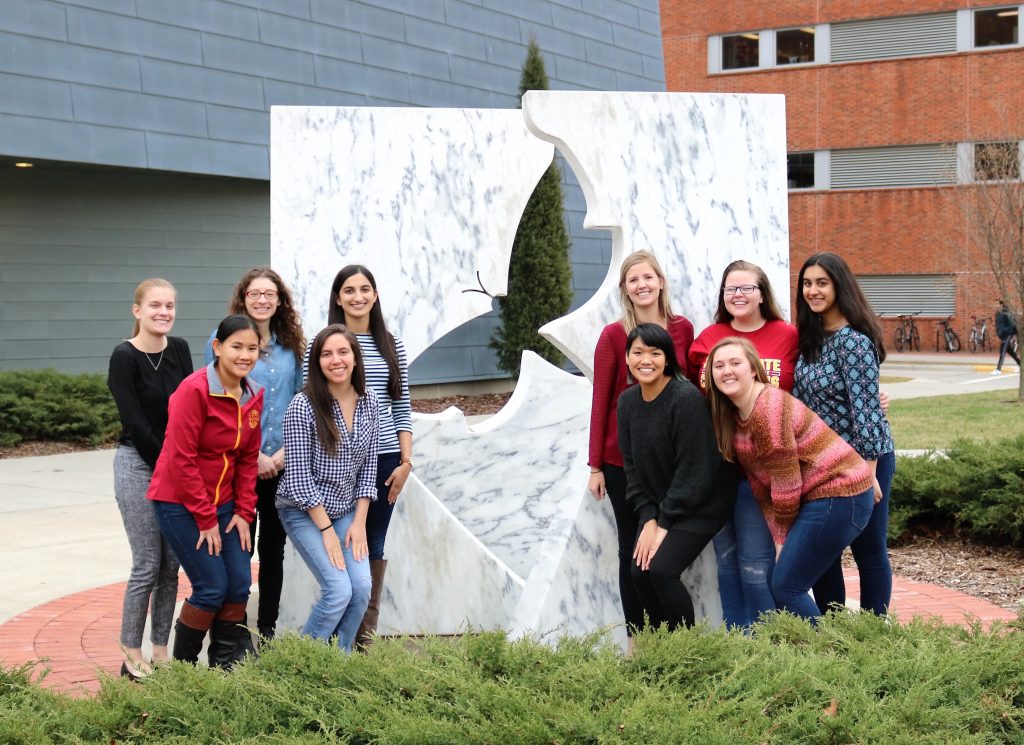 This year, Iowa State University received nearly $10 million from the National Science Foundation (NSF) to help improve diversity in science, technology, engineering and mathematics (STEM) fields. Within Iowa State's Electrical and Computer Engineering (ECpE) department, $5 million over the next five years will go toward creating 272 individual NSF Scholarships for students from Iowa State, Des Moines Area Community College (DMACC) and Kirkwood Community College, with an emphasis on promoting diversity.
This semester marks the very first cohort of students benefiting from S-STEM. Ten women were selected based on a combination of student involvement, diversity, a short written essay and financial need. While gender is not a requisite for this scholarship, ECpE uses S-STEM as leverage to create more diversity in the field.
"Some of the best jobs today are in STEM fields. I think it is important that women feel that they belong," Sarah Huber, a senior in electrical engineering and one of this year's recipients, said. "Women have the opportunity to help the world, create what they imagine and support themselves financially for a better future. There should be nothing about science, technology, engineering or math that is gender specific."  
In conjunction with the scholarship, students have been participating in a leadership course led by Associate Professor Joseph Zambreno and Professor Diane Rover. This course will allow them to build a module for the upcoming Taking the Road Less Traveled conference hosted by Iowa State's Program for Women in Science and Engineering (WiSE). The scholarship recipients also will be connected with young alumni, professors and industry professionals to continue their advancement in the field.
Rover spoke on her optimism for the creation of groups like this. 
"Diversity is an important aspect, but just one aspect." Said Rover, "With these grants, we are creating a more inclusive and creative environments for teaching and learning in the department. Diversity via increasing numbers from different groups will have little impact by itself, nor will it be achieved, if we don't change other things in the department. These grants are helping us change things."