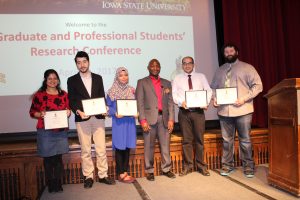 Teaching remains a top priority for doctoral candidate
Last week, engineering graduate student Alireza Sassani earned the Graduate and Professional Student Senate (GPSS) Teaching Award.
Sassani, who studies geotechnical/materials engineering at Iowa State University's Department of Civil, Construction and Environmental Engineering (ISU CCEE), earned this award for his work as a teaching assistant for the course CE 382: Design of Concretes. He has assisted with the course since the spring of 2014.
"I can utilize almost all the skills I've ever gained while teaching and also learn from my students, from my advisor, and from the teaching process itself," Sassani said.
This is not the first time Sassani has earned recognition for his dedication to teaching. In December 2016, ISU's Graduate College awarded him the Graduate College Teaching Excellence award. After nearly three years of serving as a teaching assistant, he is still passionate about helping other students.
"It is all about communication, management, science and discipline mixed with a lot of fun and love," he said. "When my students from previous semesters still ask me to help them with their work, research or course-related questions, I feel so accomplished. It is what keeps me running."
---
Sassani accepted the award during a ceremony on April 12. He is advised by Dr. Halil Ceylan. Want more stories on CCEE student success? Check out our website at www.ccee.iastate.edu, or follow us on Facebook, Twitter, or LinkedIn (Iowa State University Civil, Construction and Environmental Engineering and ISUConE). To find out more about GPSS, check out their website.