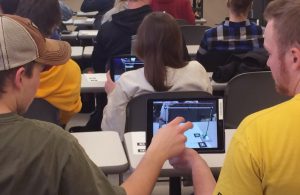 Three faculty members awarded Miller Faculty Fellowship from Iowa State University for augmented reality research
Starting in Fall 2017, some students could find themselves using iPads and apps in traditional engineering courses.
Three professors from Iowa State's College of Engineering are teaming up to bring augmented reality into civil engineering courses. Drs. Aliye Karabulut-Ilgu, An Chen, and Rafael Radkowski recently received a Miller Faculty Fellowship from the university to pursue preliminary studies exploring the new teaching technique.
"What happens in tradition textbooks is a 2-D drawings," Karabulut-Ilgu, a lecturer in civil, construction and environmental engineering (CCEE) and the team's educational specialist, said. "It's just lines. But with augmented reality applications, students get the opportunity to see the overall structure of a building and how it behaves under different conditions."
Here is how the concept works. Students would be given iPads loaded with the research team's newly developed structural engineering teaching apps. Some apps would teach concepts like typical structural reaction to loads, wind, or even earthquakes.
Now, here's the really cool part. The research team wants to develop an app that can help students visualize the underlying structures of buildings. The app, developed by Radkowski, would make use of 3-D drawings of Iowa State buildings. As the end product, students could tour buildings like the Campanile or Town Engineering Building (where civil engineering is housed) and simultaneously use their iPads to view underlying structural designs. That's right. It's x-ray vision for engineers.
Chen is a structural engineering professor at CCEE. Starting in the fall, he and his team are hoping to bring this concept to several structural engineering classes, including CE 332: Structural Analysis I, CE 448: Building Design, and other design electives. There, they will test the concept with a small group of students. Prior to starting this research, Chen was teaching these courses old-school style: using textbooks and lectures.
"When you teach these concepts, some students have difficulty visualizing the structures," Chen, whose focus is to tailor the research to students' needs within the class, said. "It's not based on their prior experience. Experiential learning is vital for practical engineering courses. We always want to bring experience into any topic we teach."
The team thinks bringing augmented reality into the mix will add a touch of real world to the hypothetical examples and illustrations of a traditional classroom.
"If students can connect what they learn to real life, it's easier for them to understand," Karabulut-Ilgu said. "We'll start with the buildings that they're in and go from there."
---
To date, the team has completed preliminary studies using early forms of the augmented reality apps. The Miller Faculty Fellowship grants the team nearly $15,000 in funding. The project will run from August 2017 until June 2018, with a proposed larger-scale implementation during Spring 2018. For more information on research at CCEE, connect with us on Facebook, Twitter and LinkedIn (Iowa State University Civil, Construction and Environmental Engineering and ISUConE) and visit us at www.ccee.iastate.edu.