Three ISU faculty members tackle real-world engineering issues in committee chair positions
With the election of construction engineering (ConE) professor David Jeong earlier this month, faculty of Iowa State's Department of Civil, Construction and Environmental Engineering (CCEE) now claim three leadership positions within the American Society of Civil Engineers' Construction Institute (ASCE CI).
"We are one of the top construction engineering programs in the nation," Jeong, who focuses on big-data research, said. "I think three professors serving as ASCE CI committee chairs is an indication of how great this program has been and how great this program is going to be."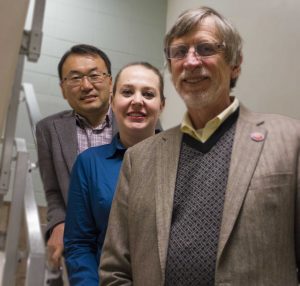 Jeong currently leads the Digital Project Delivery Committee, housed within the ASCE CI's Design Interface Council. The two other professors mentioned are Chuck Jahren, CCEE's professor-in-charge of construction engineering and associate chair, and Jennifer Shane, also a construction engineering faculty member. Jahren is chair of ASCE CI's Construction Engineering Education Committee. Shane chairs ASCE CI's Management Practices in Construction Committee. All three professors are members of the association's construction research council.
Jeong takes on the job of chairing one of the association's newest committees. The need for the committee's work is paramount to modern engineering practices, he explains.
"We are generating a lot of digital data from the construction industry," Jeong said. "And it is not just the construction industry. If you look at any other industry sector, the entire industry is driven by data analytics for productivity improvements and creation of new business opportunities."
This is one example of industry and academia forging beneficial partnerships. Plus, Jeong says that the information gained and knowledge explored can be brought back to Iowa State University to supplement the engineering student experience.
"I believe this will benefit our students," Jeong said. "Our students at ISU will get quickly updated with industry innovations and changes, and will be better prepared for their professional career because of our faculty's participation in national-level industry and academic committees."
---
Want more on faculty achievement? Follow our department on social media, including Facebook, Twitter and LinkedIn (Iowa State University Civil, Construction and Environmental Engineering and ISUConE).