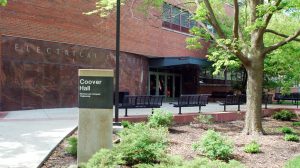 Just this past March, U.S. News and World Report ranked graduate programs from all around the United States. Iowa State University's Electrical and Computer Engineering department (ECpE) was ranked on the list, as well as many other engineering departments at Iowa State.
The computer engineering department tied for 46th overall and tied for 26th among publics this year, which was an improvement from the previous year when they were tied for 54th overall and 31st among publics. The electrical engineering department tied for 42nd overall and tied for 24th among public schools, a drop from the previous year when they tied for 38th overall and tied for 22nd among publics.
"In a highly competitive field, electrical engineering and computer engineering programs at Iowa State University are consistently being ranked by U.S. News among the top 50 in the nation." ECpE'S Palmer Department Chair Ashfaq Khokhar said. "This is a testament of the quality of the instruction and research in cutting edge research areas."
The university's College of Engineering tied for 45th overall and tied for 26th among public universities, an increase from the previous year of 48th overall.