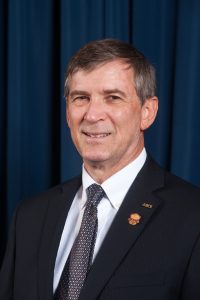 Raymond "Paul" Giroux (BSConE'79) earns prestigious honor for "contributions to construction engineering"
When comparing résumés, it's easy to see how Paul Giroux stands out from the crowd. After all, how many engineers can list the new San Francisco Oakland Bay Bridge or Zakim Bunker Hill Bridge within their portfolios?
This month, the Iowa State University alum was awarded the Roebling Award from the American Society of Civil Engineers (ASCE). Giroux, who was recently named a distinguished member of the ASCE, received this newest honor "for his contributions to construction engineering as a builder of significant bridges," such as the two listed above. The award announcement from the Construction Institute of ASCE goes on to describe how Giroux merits the Roebling Award for his work "as a construction engineering historian, chronicling the achievements of past construction engineers."
"It's been a real privilege to work around many great builders and engineers, not only within the Kiewit organization, but the entire industry," Giroux said after receiving the award. "More than anything, I feel a real sense of gratitude for those who inspired me and helped me on my journey."
The Construction Institute of ASCE first established the Roebling Award in 1987 to honor three members of an influential construction family. The ASCE's website describes John A. Roebling as "the visionary designer and builder of suspension bridges." John designed an early version of the Brooklyn Bridge. His son Washington Roebling was instrumental in the actual construction of the Brooklyn Bridge. Washington's wife Emily Roebling served as a de facto field superintendent for her husband after he succumbed to illness during the bridge's construction. These three Roeblings make up the namesake of the award recently presented to Giroux.
"They exhibited many great traits; but perhaps most importantly, they demonstrated true courage in the face of much adversity during the construction of the bridge," Giroux said of the Roeblings. "My first boss at Kiewit, Martin N. Kelley, was the Roebling Award recipient in 1991. It is indeed an honor to receive the Roebling Award."
A senior estimating manager at Kiewit Infrastructure West Co. in Vancouver, Washington, Giroux's engineering and management career spans four decades. Just as interesting as his work is Giroux's narrative of construction engineering achievements throughout the twentieth century. He has researched many of America's most famous construction projects. The list includes the Panama Canal, the Brooklyn Bridge, Hoover Dam, and the Golden Gate Bridge. Giroux believes that the lessons of past engineers have an important place in modern engineering practices.
"As a civil engineering historian, many of the accounts of events I researched did not provide adequate representations of what our forefathers accomplished," he explained. "So de-mystifying and bringing to light how past engineers solved seemingly impossible challenges is also rewarding."
Earlier this month, Giroux visited ISU to speak to students and faculty from the department of civil, construction and environmental engineering. He chose another great engineering feat, the building of the Grand Coulee Dam, as the topic of his lecture. It is just one of many talks that Giroux gives throughout an average year. Giroux has presented more than 200 lectures at 60 engineering schools alone. That's not counting his presentations for public and professional venues. In these talks, he encourages young engineers to challenge themselves.
"Without courage, that ability to get out of one's comfort zone, an individual will not learn any of the other necessary skills and traits required to be a great engineer or builder," he said. "Through enhanced skills and traits, young engineers will be provided more and more meaningful opportunities and, with that, a greater sense of satisfaction and accomplishment in their work."
---
Interested in more? View a short video of Giroux's achievements as an engineer and historian. Find out about interesting alumni of Iowa State University's Department of Civil, Construction and Environmental Engineering by following us on social media, including Facebook, Twitter, and LinkedIn (Iowa State University Civil, Construction and Environmental Engineering and ISUConE).