Iowa State alum Janice Marquardt knew that she wanted to study mechanical engineering in college but but she didn't think that it would lead her to the career path she's taken.
Marquardt was born in Portland, Ore. but moved to Ames at the age of five when her father, John Gustafson, took a job at the Ames Laboratory where he studied high-performance computing. Marquardt said that from a young age her family provided a strong support system that not only encouraged her to pursue higher education but that also pushed her to specifically pursue studies in the STEM (Science, Technology, Engineering, and Mathematics) field.
Attending Iowa State was an easy choice for Marquardt since not only was the campus right in her backyard but also because her parents were ISU alumni. Her father earned his PhD in applied mathematics in 1982 and that same year her mother, Denise, earned a B.S. in ceramic engineering. Marquardt said that her mother was particularly supportive in encouraging her to pursue studies in engineering.
"She used to tell me when I was a very small girl, she'd say 'You can do whatever you want in your life. You can get whatever degree you want as long as you also have an engineering degree,'" Janice Marquardt said.
Janice Marquardt wanted to be an interior designer and her mother encouraged her but also said she should get an engineering degree as her primary major but by the time Janice got to college she was genuinely interested in studying engineering.
"When you have role models like that in your life it's not a stretch to think of yourself as a female going into engineering. It's not an issue. It just felt natural," she said.
Marquardt came into college as an undeclared major but ending up selecting mechanical engineering because she liked to work with both "microscopes and big machines." She also went with mechanical because of her dislike of chemistry at the time, which she said was ironic since biochemistry was a large part of her emphasis in graduate school. During her master's studies she worked under ME professor Pranav Shrotriya and Marit Nilsen-Hamilton, a professor in the Roy J. Carver Department of Biochemistry, Biophysics and Molecular Biology. Her thesis was entitled "Force interaction characterization between thrombin and DNA aptamers" and it focused on atomic force microscopy and RNA strands.
When she was still an undergraduate, Marquardt was looking for a minor to accompany her ME degree. After talking to recruiters at an engineering career fair she found that there was demand for effective communicators within the engineering field, so she decided to pursue a minor in communication studies. She eventually declared communication studies as a second major since budget cuts her sophomore year forced the department to restrict many of its introductory-level courses to majors-only.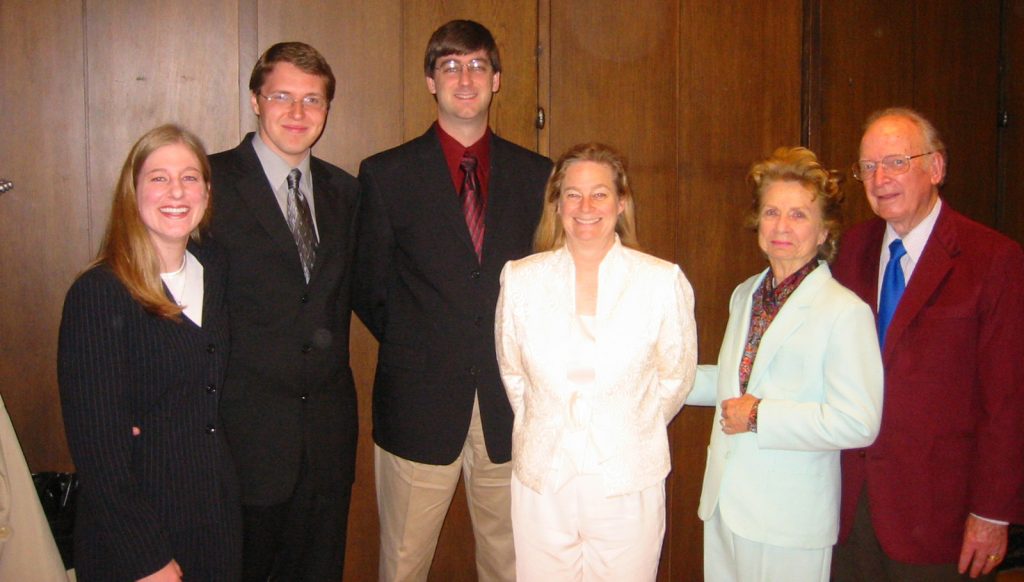 She said that while her communication studies classes weren't quite as challenging as her engineering courses, she learned a lot about people from her communication studies coursework. She has applied many of these communication skills when dealing with not only engineers but also human relations (HR), marketing, and other non-engineers.
"Being in the double major really taught be how to speak both languages," she said.
Marquardt graduated with her B.S. in mechanical engineering and B.S. in communication studies (both Summa Cum Laude and with Honors) in 2007 and her M.S. in ME in 2008. She started her job as a design engineer with Vermeer the Monday after her commencement ceremony and spent about five years there before joining MidAmerican Energy as a senior buyer in July 2013.
"I found that I was a decent design engineer but I was never a very good design engineer, at least by Vermeer's standards. But I'm great at procurement. I like to negotiate with people. I learned great negotiation skills through my MBA and a little bit through my communication studies as well," she said, adding that conflict management was another skill that she learned in her studies and still uses today.
In addition to her bachelor's and master's degrees, she earned a master's of business administration (MBA) from the University of Northern Iowa in 2014. Marquardt said that she feels that having these advanced degrees helped to raise her career ceiling. She also thinks that these advanced degrees helped her land an inline promotion to Procurement Manager in August 2016. Then earlier this month she was promoted to Director of Strategic Procurement at MidAmerican Energy.
"Procurement's job is to bridge the gap between supplier and an engineer so you have to be able to speak both languages and that really started with my double major," she said.
While Marquardt's skill set ranges from engineering to communications to business, she said she thinks that an engineering degree is especially important for those in managerial positions because of the pragmatic mindset that many engineers have.
"There's a very high value placed on an engineering degree at the senior level at many companies," she said, adding that it helps to establish a base level of technical competence. "What engineering teaches you is a very structured way to restate the problem and lay out what your assumptions are, which is the step that people usually miss."
"Let me layout how I'm going to solve the problem, then I'll solve the problem. Then I look at my answer and ask 'Is this a reasonable answer given this question?' I think that's really what engineering teaches and why engineers are so valuable," she said.
In graduate school, Marquardt worked as an academic advisor and part of the advice she'd have for her students, particularly females, was for them to just be themselves. She said she would echo this advice to any young women considering STEM fields today.
"Be you," she said. "Don't be afraid to be the girl. Don't feel like you have to be one of the guys. I didn't really start growing in my career and in my life until I stopped trying to be one of the guys, and trying to be something I wasn't. My career really took off when I stopped doing that."