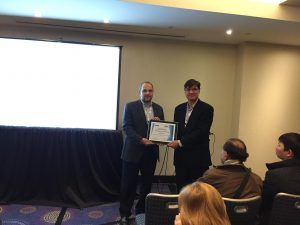 This past December during the Institute of Electrical and Electronics Engineers (IEEE) Globecom 2016 conference, Iowa State University's Electrical and Computer Engineering professor, Ahmed Kamal, was awarded by the IEEE Communications Society Optical Networking Technical Committee (ONTC) for his contributions to optical networks.
The IEEE Communications Society ONTC recognized the significance of the contributions made by Kamal through his publications in the area of traffic grooming and multipoint communication in optical networks.
"About 15 years ago, I was one of the first researchers to look at these two problems together. Multipoint communication includes modes like broadcast, multicast and many-to-one, among several modes.  To groom traffic from multipoint communication effectively involves several issues in the planning, design, implementation and operation of optical networks," Kamal said.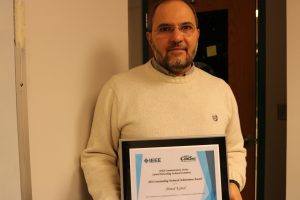 Kamal describes optical networks as communication networks that use optical fibers as the physical medium to carry information in the form of light. Optical networks are networks based on use of optical fibers in which information is carried. These optical fibers and supporting devices are used for transmission and reception.Prior to coming to Iowa State, Kamal earned his undergraduate degree in electrical engineering from Cairo University in Egypt. Kamal went on to earn his master's and doctorate's degrees from the University of Toronto in Canada. He began his teaching career in Canada at the University of Alberta and later came to Iowa State in the fall of 1999.
Although Kamal has spent many years working with optical networks, he has found himself venturing into new areas, especially wireless communication.  He has started looking at the next generation (fifth generation, or 5G) of wireless networks. But at this stage in his career, he finds it most important to groom the next generation of engineers.
"I do owe it to my students, because without their contributions to my research program, I could not have achieved this recognition," Kamal said. "They probably deserve this award more than me."