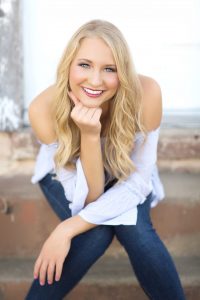 As the start of spring semester begins, Kaci Storm is both celebrating and basking in her success of being a student at Iowa State University. Storm, a senior in Materials Engineering from Geneseo, Illinois, has learned to embrace her adventure at Iowa State by finding success in academics and in athletics. Her ability to balance and excel at a multitude of opportunities during her career as an undergraduate is admirable.
As a senior in high school, Kaci Storm was looking to continue her track and field career as well as her education at a school that offered her both academics and athletics. Iowa State did just that.
"I knew this is where I wanted to be," she said. "It just felt like home more than anything."
She chose to pursue an undergraduate degree in Materials Engineering because of an interest that arose from a biomedical class in high school. During a campus visit to Iowa State, she met Materials Engineering undergraduate advisor, Andrea Klocke. Because of Klocke's beaming and welcoming personality, Storm chose Materials Engineering as a major. Since then, she has come to love materials as a whole. Her area of specialty is in polymers and ceramics, and she has two minors in biomedical engineering and engineering sales.
Storm also chose to pursue her career as a student-athlete on the track and field team for Iowa State. She is a heptathlete, participating in seven events- hurdles, high jump, shot put, 200-meter sprint, long jump, javelin, and the 800-meter sprint.  Her best accomplishment has been getting 4th place at the Big 12 Conference meet.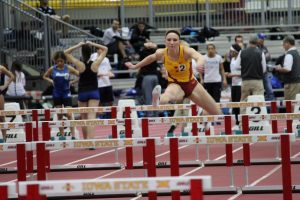 Storm said, "I started my freshman year as a heptathlete. During my sophomore year, I switched to hurdles and sprinting for two years, and my fourth year I competed in pole vaulting and the heptathlon. I got 4th place in the Big 12 Conference last year, and I was so proud of myself for proving to everyone why I was here since I did not have a consistent path to practicing just one or two events throughout my track and field career at Iowa State."
She said, "I like the challenge of the heptathlon. If one event does not go right, you have to learn to get your mind right to continue. I came from high school competing in hurdles and running so there was a huge learning curve. The challenge is why I enjoy engineering too. I love getting over the curve because you know you worked so hard to get there."
Storm reflected on her time as a freshman and the transition made as a new student-athlete to a division one, state university studying engineering. She said, "When I first came, I was somewhat overwhelmed as I spent too much time practicing, studying, and putting myself out there to find other exciting opportunities as a student. I learned to manage and not waste my time. I also wanted to find a balance to be a kid too. There's been a lot of late nights and early mornings, but I've learned to better manage everything on my plate."
Besides being a Materials Engineering student and track and field athlete, Storm is also involved in Alpha Chi Omega, Student Athlete Advisory Council, National Society of Leadership Success, and academic fraternities. She was involved in the peer mentor program as a freshman and part of a research group in Dr. Martin Thuo's lab. Her favorite extra-curricular activity is the Student Athlete Advisory Council because she is able to get involved with student athletes, encourage campus and community involvement and outreach, and be a link between the athletes and athletic board.
Storm has received two summer internship opportunities with Medtronic as a manufacturing engineer that has helped her discover a path to follow upon graduation in May. She plans to go into industry to pursue an engineering career specializing in biomedical devices, manufacturing, quality or sales.
As the track and field season kicks off for 2017 in just a few days, Kaci Storm will be embracing her final months as a Materials Engineering student-athlete with many proud accomplishments to reflect upon.