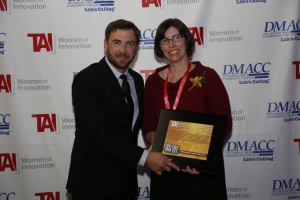 The Technology Association of Iowa (TAI) recently named Leslie Potter, senior lecturer in industrial and manufacturing systems engineering, as a finalist of the Ninth Annual Des Moines Area Community College Iowa Women of Innovation Awards.
The awards recognize and celebrate women in business, government or academia who are leaders in the fields of science, technology, engineering and math (STEM). Potter was nominated for the Academic Innovation and Leadership category.
Throughout her career, Potter has managed nearly 200 student projects while working with more than 20 industrial partners. She also pioneered a program to match undergraduate students interested in research with faculty members, resulting in a significant increase in undergraduate student involvement in research projects. Additionally, Potter helped set up and now manages a collaborative effort with the Department of English to provide industrial engineering majors with technical writing instruction related to their profession.
She has been recognized for her innovation and leadership in numerous ways, including the Superior Engineering Teaching Award, Faculty of the Year Award, the Don Grant Faculty Award for Excellence in Undergraduate Education, and the Outstanding Engineering Club Advisor Award.
Potter has received five grants and has peer reviewed education-related publications related to flipped classroom pedagogy, ABET and accreditation, and engineering communication.