The Program for Women in Science and Engineering (WiSE) honors CCEE's Beth Hartmann for support of STEM education to young women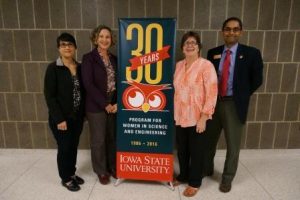 This month, Senior Lecturer Beth Hartmann was honored as a 2016 WiSE (Women in Science and Engineering) Champion.
Hartmann, a construction engineering faculty member of the civil, construction and environmental engineering department at Iowa State University (ISU), was recognized for her involvement and support of WiSE. She first got involved with the STEM program in 2009, when she came to work at ISU.
"The program helps connect undergraduate students to each other through learning communities and various events, providing them a support system that will help them achieve their full potential," Hartmann said.
Hartmann has been involved with WiSE in several capacities, including helping with learning community sessions and leading personality seminars at program events for high school students. She regularly attends and participates in outreach events and activities.
WiSE was founded at Iowa State in 1986. The goal of the program is to increase the participation of women in science, technology, engineering and math (STEM) fields. This year, WiSE celebrates its thirtieth anniversary.
As part of its anniversary celebration, WiSE is recognizing thirty ISU faculty and staff members for their support of WiSE and its service to both K-12 students across Iowa and women in STEM fields on campus. Hartmann is one of four faculty and staff members in November to receive recognition for their work with WiSE programming.
Encouraging more young women to participate in STEM fields is crucial, says Hartmann.
"Women and girls tend to focus on their weaknesses instead of their strengths," she said. "Don't sell yourself short. If a career in a STEM field is what you want, go for it."
Hartmann has earned several prestigious college and university awards, including ISU's College of Engineering Superior Advisor Award in 2015 and the ISU Award for Early Achievement in Teaching in 2014. She was named to the Women Impacting ISU Calendar in 2014 as well.
As of the fall of 2016, WiSE reported that more than 5,300 female students are enrolled in a STEM major at ISU. The program provides outreach to 9,000 K-12 students each year to promote awareness of STEM professions. Jennifer Owens, Penni Bryant, and Sriram Sundararajan were also named November WiSE Champions. Champions were honored with a luncheon on Nov. 16.
Read more about WiSE's anniversary celebration and Hartmann's work. And make sure to follow ISU CCEE on our social media, including Facebook, Twitter, and LinkedIn (Iowa State University Civil, Construction and Environmental Engineering and ISUConE) and on-line at www.ccee.iastate.edu.