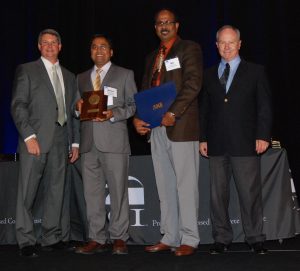 Outstanding things come in threes. At least, that's the case for Sri Sritharan and his team of Iowa State University (ISU) alumni and industry collaborators.
Earlier this year, the ISU professor learned that he and research partners had earned three prestigious awards: the T.Y. Lin Award, the Martin P. Korn Award, and the George D. Nasser Award.
"Receiving multiple honors from ASCE and PCI is very humbling," Sritharan said of the news. "I am happy for my students and industry collaborators. It is great to see their hard work getting rewarded."
Each award is specific to a journal article on which Sritharan and his team worked.
The T.Y. Lin Award is given by the ASCE. Since 1968, the award has recognized "outstanding engineers and their contributions to the field of prestressed concrete." Ataur Rahman (PhDCE2008) and Sritharan co-authored the winning article for the PCI Journal, entitled "Seismic Response of Precast, Posttensioned Concrete Jointed Wall Systems Designed for Low- to Midrise Buildings using the Direct Displacement-Based Approach."
Citing an article from ASCE News published earlier this year, Rahman and Sritharan's work was met with the highest praise. The selection committee agreed that the article "opens up an entirely new domain for prestressed concrete in seismic structures."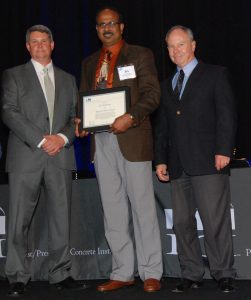 "The research presented in this paper promotes the use of direct displacement-based approach for designing precast, post-tensioned concrete jointed wall systems for low- to mid-rise buildings in seismic regions," Rahman said of the ground-breaking work. "Research suggests that these jointed wall systems can be designed for lower forces, and yet they will withstand seismic excitation with minimal structural damage, allowing a building to be more resilient."
The Martin P. Korn Award is given by the Precast/Prestressed Concrete Institute (PCI). PCI describes this award, writing that it "recognizes the paper offering the greatest contribution to the advancement of precast prestressed concrete technology in research and design." Sritharan, along with Justin VanderWerff (PhDCE2014), Rick Snyder (MSCE2010), and Jay Holombo, co-authored the paper "A cost-effective integral bridge system with precast concrete I-girders for seismic application."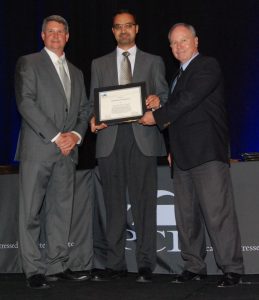 Finally, the George D. Nasser Award recognizes papers that focus on several points of precast concrete structures, including design, research, or construction. Authors who receive this award must be 40 years of age or younger. Sritharan served as a professor to several ISU alumni recognized for this honor: Ann-Marie Cox (MSCE2007), Jin-wei Huang (MSCE2011), and Muhannad Suleiman (PhDCE2002). The winning paper, "Minimum Confinement Reinforcement for Prestressed Concrete Piles and a Rational Seismic Design Framework," was published in the PCI Journal and co-authored by Sritharan, Cox, Huang, Suleiman, and K. Arulmoli.
Of course, an outstanding research relationship shows up as the reoccurring theme between the civil, construction and environmental engineering (CCEE) alumni and Sritharan.
"My research at ISU prepared me well to address complex structural engineering problems," Rahman said. "The student-professor relationship has continued beyond Iowa State, and we are still submitting research articles together."
---
To learn more about research at ISU CCEE, look up our website, ccee.iastate.edu. Make sure to follow us on Facebook, Twitter, and on LinkedIn (Iowa State University Civil, Construction and Environmental Engineering and ISUConE).