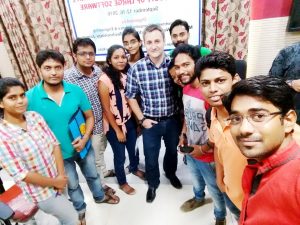 Current Iowa State University Computer Engineering Ph.D. student Ben Holland is always willing to take on a cybersecurity challenge.
Holland has participated in Automated Program Analysis for Cybersecurity (APAC) and Space/Time Analysis for Cybersecurity (STAC), the two largest grants Iowa State's Electrical and Computer Engineering Department has received in the last several years. He was a valuable asset to ISU's success as the top-performing team on the Defense Advanced Research Projects Agency (APAC) project. The team's success was evaluated based on their ability to detect malware in DARPA challenge apps and the malware detection technology.
Holland participated in every challenge engagement for APAC and personally audited over 65 DARPA challenge applications for novel and sophisticated malware. Currently, Holland works on DARPA's Space/Time Analysis for Cybersecurity (STAC) project. His team has been very successful and has made many new contacts with industry and other universities.
Holland said networking with others in the cybersecurity field has opened his eyes to new ways of thinking and encouraged him to seek out answers from others.
"I have been humbled many times in my life," Holland said. "The more I learn, the more I realize that I don't know. I have also learned to be humble and to be skeptical of those who are not."
After receiving his Master's degree, Holland worked at Iowa State University as a full-time research associate and then an assistant scientist for three years, before deciding to pursue a Ph.D. in 2015.
He also recently helped teach a short course with Richardson Professor Suraj Kothari in India under a new Government of India program titled Global Initiative of Academic Networks (GIAN). The one-week graduate course about program analysis and cybersecurity was held at Malaviya National Institute of Technology in Jaipur, India.
Kothari, Holland's mentor, said Holland's teaching style was greatly appreciated by the students at the GIAN workshop, and the organizers hope he teaches another course in the future.
"Ben is a gifted hands-on teacher, a superb team player, a leader and an effective communicator, always ready to help his teammates," Kothari said. "He has prepared valuable lab material that we use at ISU and at invited tutorials at international conferences."
Holland said working with Kothari has taught him to think in a different way and he thinks Kothari will continue to rewire his brain as Holland continues to work with him.
"Dr. Kothari is a great match for me," Holland said. "He is a patient hands-off adviser who gives me plenty of space to be creative and approach problems in a way that best fits my personal strengths. At the same time, he has always been available to mentor me and develop my critical thinking, communication and general life skills."