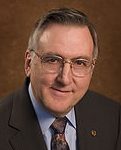 This story was originally published by Annette Hacker with Iowa State University News Service. 
Lanny Robbins, an alumnus and member of the National Academy of Engineering, has joined Iowa State University.
Robbins will begin his new role Jan. 1, 2017. He will hold the rank of associate professor and distinguished faculty fellow in the department of chemical and biological engineering.
"Iowa State is proud and excited to welcome Lanny Robbins to campus," said President Steven Leath. "Lanny is not only one of the world's most accomplished engineers, but also an alumnus who has consistently lent his expertise back to our academic programs."
Robbins, who retired as a research fellow with Dow Chemical Co. in 2003, is an expert in fundamental engineering research and pilot plant process development, particularly separation and purification processes that reduce harmful emissions from industrial towers, and remove impurities from commercial wastewater. His work has resulted in more than 200 Dow technical reports and outside publications, 18 U.S. patents, and a 2011 book, "Distillation Control, Optimization, and Tuning."
Robbins' duties at Iowa State will include advising the department on faculty advancement and industry engagement; providing expertise in undergraduate teaching labs; preparing students to work in industry; and leading seminars and workshops on professional development and leadership.
Robbins earned bachelor's, master's and doctoral degrees in chemical engineering from Iowa State. He is a 2006 recipient of the College of Engineering's Marston Medal, the highest honor bestowed on alumni, and was elected to the department of chemical and biological engineering Hall of Fame in 2013.
Robbins has also served as an adjunct professor at Virginia Polytechnic Institute and Michigan State University, and on numerous advisory boards.