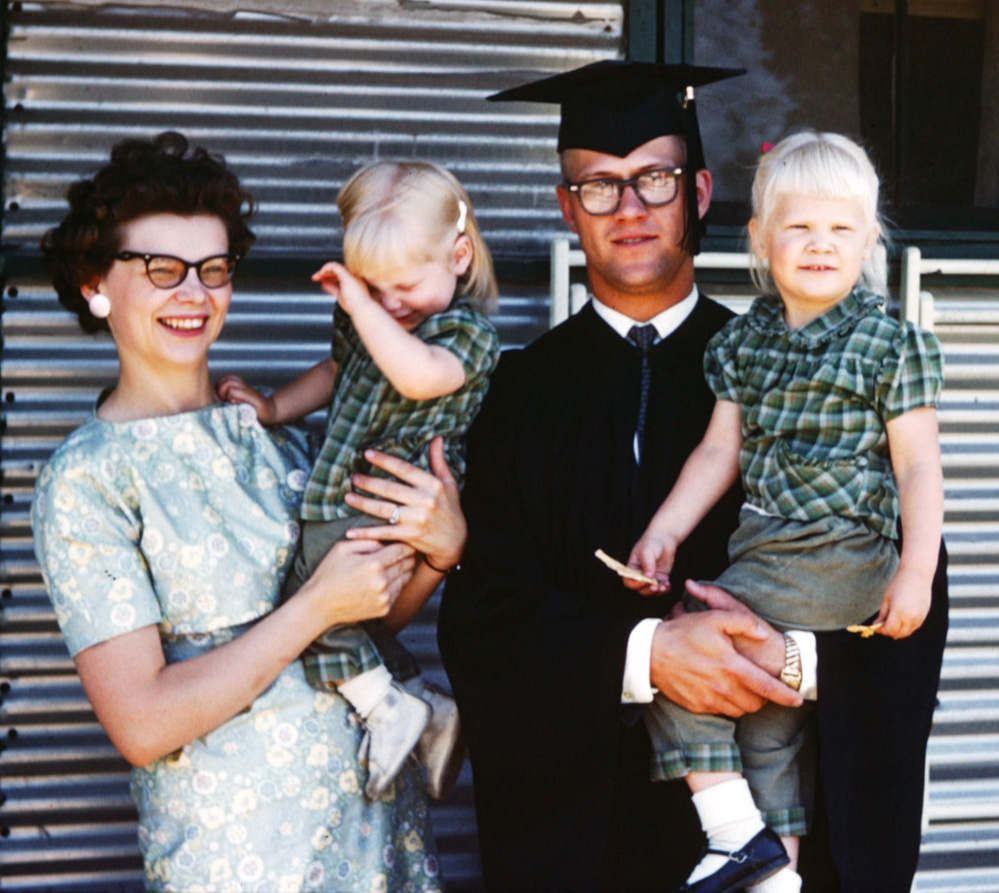 For the Cargills, engineering is a family matter.
Three decades of Cargills have walked the halls of Iowa State University beginning with Patty Cargill's father – Lyle Feisel – who studied electrical engineering in the late 1950s and early 1960s. After earning his B.S., M.S., and Ph.D. degrees from ISU, Lyle went on to have a half-century long career in academia beginning as a professor at the South Dakota School of Mines and working his way up to Dean of Engineering at the State University of New York at Binghamton.
It was at ISU that Lyle met his future wife – Dorothy Stadsvold – who studied home economics. Both Lyle and Dorothy were first-generation college students who grew up as Iowa farm kids in Tama and Exira respectively.
Roughly two decades after Dorothy and Lyle roamed the ISU campus, their daughter Patty decided to follow in her parents' footsteps graduating with her B.S. in mechanical engineering in 1980. While Patty deviated from her father a bit by pursuing mechanical as opposed to electrical engineering, she said both parents played a major role in her education particularly at a time when women weren't necessarily encouraged to pursue careers in engineering.
"Both my parents encouraged me to go into engineering, once I decided that math and science were areas of interest.  I certainly got minimal encouragement from teachers and counselors at my school.  Girls in engineering were still something of a novelty in the 1970s," she said. "But my dad had female students and saw that they could do well, and that they were a welcome addition to the engineering school culture."
It wasn't just the family support that she had that attracted her to mechanical engineering but she also had a genuine interest in field.
"I really enjoyed seeing mechanical motion and learning to quantify and control it. And once I started learning fluid dynamics and seeing all the beautiful and fascinating possibilities of flow structures, I was hooked," she said.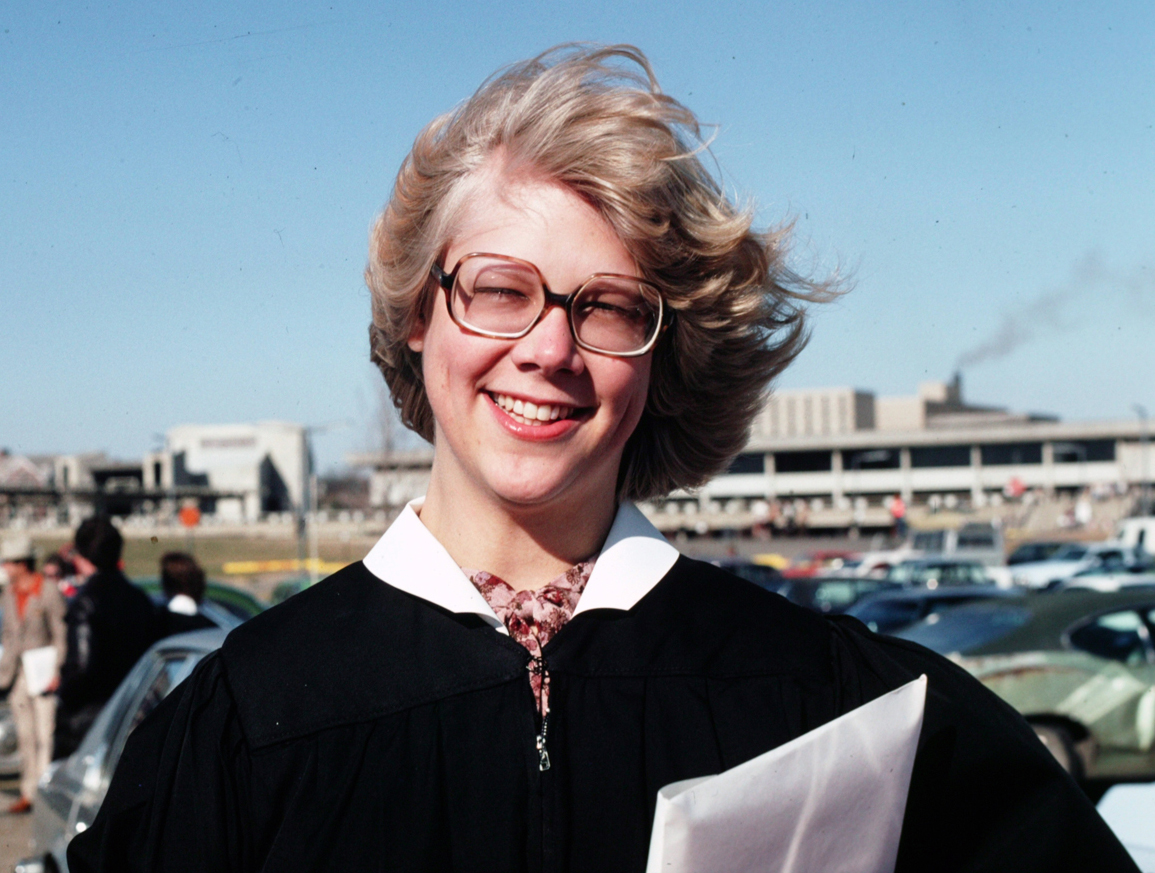 Patty worked closely with Dr. Ted Okiishi (now a professor emeritus) who greatly influenced her interest in turbomachinery. She spent two summers working on automatic transmissions for General Motors in Indianapolis and one summer doing compressor research at the von Karman Institute for Fluid Dynamics in Brussels, Belgium.
After graduation Patty took a job with Garret Turbine Company in Phoenix, Ariz. It was there that she met her husband Greg and the couple moved to Cincinnati in 1987 after being offered jobs with GE Aviation, where both of them still work today. Not long after moving to Ohio the Cargills had their first child, Allison Anne.
Allison became the third generation of ISU alums in her family after graduating with her M.S. in mechanical engineering in August 2016. Her grandfather, mother, father (who studied mechanical engineering at Arizona State University), and aunt (Margaret Feisel Craig) were all influential in helping her to decide to pursue a career in engineering.
"Having so many engineers in my family, I was able to see first-hand that engineering can take you anywhere, from academia like with my grandpa to managing a technical group as my mom did to serving as executive leadership for technology companies like my mom's sister Margaret," said Allison. "It is really about problem solving and analytical thinking, and I think most people would agree that the world has all kind of problems to solve."
Allison also cited a fifth grade school project in which she wrote a biography about her grandfather as having a major influence on her to pursue a career in engineering. She was inspired by the fact that her grandfather grew up in rural Iowa – about 60 miles east of Ames – but his career in engineering took him all around the world.
While Allison was greatly influenced by the elders in her family, she influenced her younger brother Jeff to pursue a career in mechanical engineer and both hold B.S. degrees from Purdue University. Allison considered ISU for her undergraduate studies but ultimately chose Purdue as the campus was only about three hours from her home, compared to ISU which is about three times that distance. Before college was even on either of their radars, both Allison and Jeff showed an interest in engineering.
"Growing up, my brother and I had toys like marble runs, Legos, and craft kits – all things that allow kids to create, construct, and problem solve. And we were always encouraged to ask why. For example, my mom says that she knew I would be an engineer when I asked her why bicycles keep moving even when the person stops pedaling," Allison said.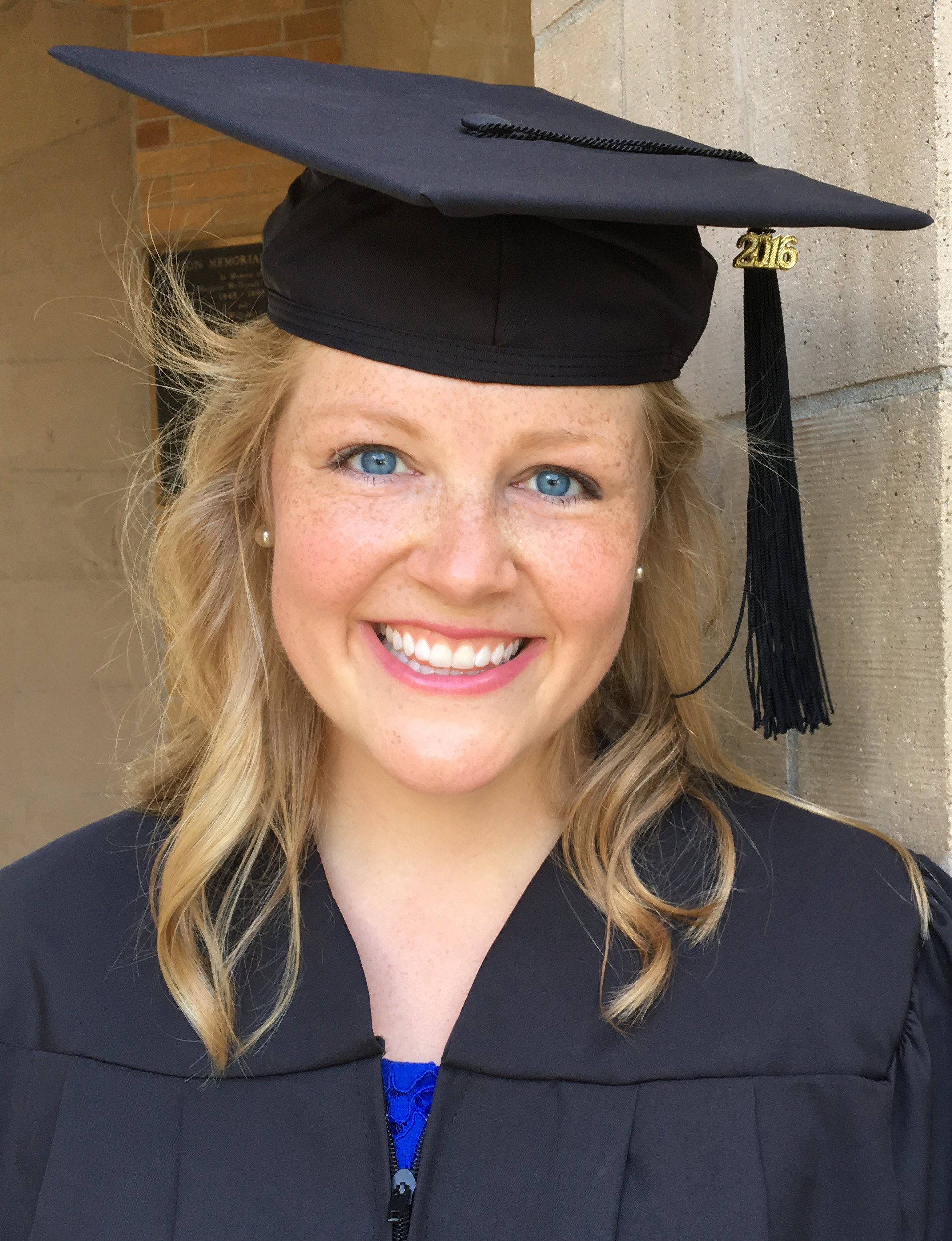 Allison's childhood love for crafts has come full circle as she was recently hired by Horizon Group USA, a craft company based in Warren, New Jersey. She started earlier this month and works as a design engineer in product development. While many of her life experiences helped to shape her professional development, she said her graduate studies have been invaluable, especially in terms of working in an international setting and tackling long-term projects.
"I took two graduate courses with globalization focuses, ME 584 [Technology, Globalization and Culture] and ME 605X [Broader Impacts of Engineering], and those helped prepare me to work in a global setting by exposing me to diverse viewpoints and backgrounds," said Allison. "In grad school I was also able to work on a wide variety of projects, some that lasted a few weeks and some that lasted over a year. This prolonged project experience was really helpful in teaching me how to set long term goals and manage time and resources effectively."
During her time at ISU Allison worked closely with ME assistant professor Jonathan Claussen, who was beginning his career at ISU at the same time Allison was starting graduate school in the fall of 2014. Allison and Jonathan shared a Purdue connection – Jonathan earned his PhD in biological engineering from Purdue in 2011 – but that wasn't the only reason that Allison chose to work with The Claussen Lab.
"When we met to talk about research opportunities, I found that even though I didn't know anything about the topics he worked with [nanomaterials and biosensors] he explained them in a very clear way, and I could easily see the potential impact that they could have on end users. So I guess it was a combination of things that made his group attractive – the research was interesting and impactful, he is a very dynamic and enthusiastic professor, and we were both new to Iowa State," Allison said.
Even though she's only been away from Ames for about a month, Allison said she already misses her church – Harvest Vineyard, the "great local beer" at Alluvial and Torrent, and the strong community culture.
"The ISU and Ames communities have been so great to our family. When I moved to Ames two years ago I didn't know anyone, but I left feeling like a true part of the community," Allison said.
Not only did Allison feel that she was welcomed by the community but she also recognized that a large part of her family's history was shaped by ISU and Ames.
"In general, I loved being in a place that is such a huge part of my family history. My grandparents met on a blind date when they were both ISU undergrads, the apartment I lived in at ISU looked out onto the apartment my grandpa lived in when he was an undergrad, my mom played the bell tower carillon when she was at ISU so when I heard that I'd think of her, and the list goes on and on," said Allison.
"My favorite family story is about Beardshear Hall. My grandma had class in there and my grandpa had class on the other side of campus, and she would wait for him on the steps as he walked across central campus. I always thought of that when I walked across central campus, and it made me feel very connected."
Like daughter like mother, Patty too gets nostalgic when thinking about her time at Iowa State.
"I always loved Iowa State's gorgeous campus through all the seasons.  I find Iowa people to be truly salt of the earth – intelligent and well educated, personally conservative with solid values, but accepting others and embracing their differences," Patty said.
As women in engineering, both Patty and Allison encourage girls and young women to pursue careers in the field, despite it historically being dominated by men.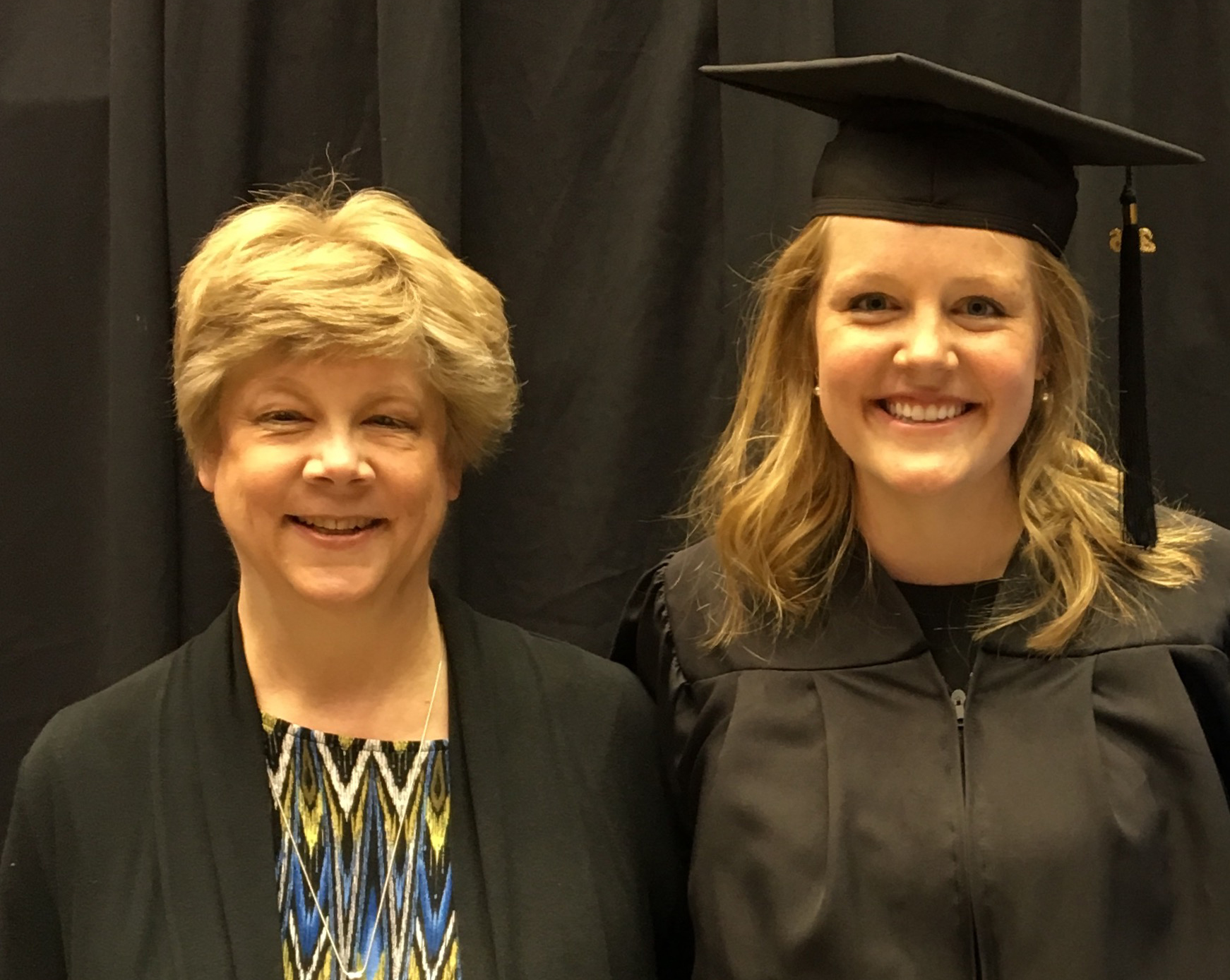 "My first advice is to choose a field that really interests you.  If you're lucky you will fall in love with it," Patty said. "That said, engineering can be a fantastic field for women. I have felt very little negative impact for being a woman.  Men generally like having women around, and engineers can recognize good work and solid contributions, wherever it comes from."
Allison agrees with her mother's sentiment and also encourages aspiring female engineers to get involved with Women in Mechanical Engineering, the Program for Women in Science and Engineering, and other student groups on campus.
"My advice is to find a support network of like-minded women who will encourage, motivate, and inspire you," Allison said. "There were many times that I wanted to give up, but with the encouragement and advice from my friends and mentors I was able to work through the difficult times."