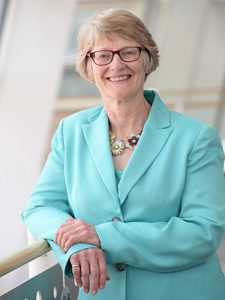 Sarah Rajala, dean of the Iowa State University College of Engineering, has been named a 2016 ABET Fellow Award recipient. She will receive her award at an Oct. 28 event in Baltimore.
ABET accredits higher education programs in the disciplines of applied science, computing, engineering and engineering technology – they accredit more than 3,500 programs at 714 colleges and universities in 29 countries, including Iowa State University. With ABET accreditation, students and employers can be confident a program meets the quality standards that produce graduates prepared to enter a global workforce.
The ABET organization relies on technical peer-based experts to evaluate program materials and visit campuses. Rajala has been active in ABET for more than 20 years – serving as a program evaluator for ASEE and IEEE, a member of the engineering commission representing ASEE and on the engineering commission executive committee for the past six years. Rajala is currently serving in the role of past chair.
Every ABET expert promotes confidence in technical education – but those who truly embrace the power of the accreditation work and have a clear impact are named ABET Fellows by the organization's board of directors. This distinction recognizes individuals who surpass normal expectation by dedicating notable time and effort to achieving ABET endeavors.
Rajala joined Iowa State on April 1, 2013 from Mississippi State University where she was dean of the Bagley College of Engineering. Prior to her dean positions, she had a distinguished career as a professor, center director and served in various academic leadership positions. Rajala earned her bachelor's degree from Michigan Technological University and master's and Ph.D. degrees from Rice University.
The Iowa State College of Engineering is one the largest engineering programs in the country offering 12 majors and five minors to more than 9,300 students. The college has the 7th largest undergraduate enrollment in the country and is consistently ranked a top 25 engineering program at public universities.