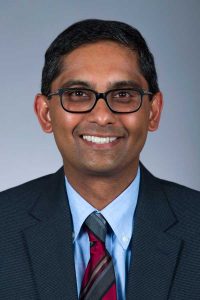 The College of Engineering's newly appointed associate dean for academic affairs Sriram Sundararajan shares his adventure at Iowa State and why he has so much to look forward to in his new role. 
As the new academic year gets underway, I wanted to extend a welcome (back!) to all of our students, faculty and staff. I hope you all had a fantastic summer.
The start of the academic year always brings with it new adventures for all of us. Our new students will transition to life as budding Cyclone Engineers, our returning students will progress in their degrees through new experiential learning and research, and our faculty and staff will prepare to educate the next generation of engineers and conduct new research to better our understanding of scientific phenomena and provide engineering solutions to societal problems.
The College of Engineering administration and service units look forward to being back closer to the engineering departments as they settle back into the newly renovated Marston Hall. The building retains its historical façade while now rivaling the decks of the Starship Enterprise on the inside.
My adventure will be to see how I can best support the academic programs across the college in my new role as associate dean for academic affairs, which I assumed on July 1. I would like to thank Prof. Gary Mirka in IMSE for his leadership in this role these past years and for his gracious support in helping with the transition process.
My ISU journey began in 2002 when I joined the mechanical engineering department as an assistant professor. Since then, I have had the opportunity to work with outstanding students, staff, and faculty on topics related education, research, and diversity and inclusion. My current role will focus on providing support to the educational programs across the college, including overseeing accreditation and student service functions as well as working to enhance a culture of inclusivity. I believe these activities are best achieved collaboratively, and I am looking forward to working with many others to enhance the excellence of our programs under the leadership of Dean Rajala.
This past summer, the College, working together with the Office of Admissions, welcomed more than 2,000 students and their families to campus at summer orientations. Thanks to our excellent advising staff, as well as faculty and student volunteers, these new students left with a plan in place for their first semesters on campus and families left fully confident that their children will be in good hands as they enter the next phase of their lives.
Student groups from all over the college were also busy this summer, participating in competitions, races and more. Seeing their hard work in action is always a rewarding experience, no matter the outcome, and they should be proud of all they accomplished.
As classes get ready to start, the college continues to work on providing exceptional learning experiences. We have grown a great deal over the years in terms of students, and we have hired faculty and staff, as well as used collaborative approaches to teaching and utilizing space, that allow us to carry out the tradition of excellence for which we are known.
As the semester unfolds, students – I encourage you to do your best in class and maximize your educational experiences outside class by seeking out research experiences in faculty labs or by actively participating in student organizations. To our graduate students – I wish you all the best in your research and teaching endeavors.
To our faculty and staff, who are among the best in the world and are dedicated to helping our students succeed and join the ranks of our many successful and proud alumni, I wish you continued success. Go Cyclones!