Iowa State University (ISU) alumna Ashley Kruger and her fellow engineers at Mortenson Construction take deadlines seriously. They have to. They are one of two partner firms that have managed the construction of U.S. Bank Stadium in Minneapolis, Minnesota.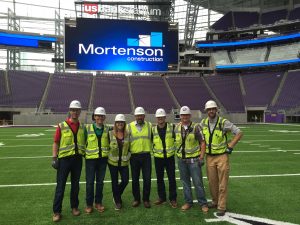 On July 22, the Minnesota Vikings, Mortenson Construction and partners celebrated the ribbon cutting of the billion-dollar stadium. For engineers like Kruger, the ribbon cutting represents years of work. Back up to early June of this year. Kruger, who earned her Bachelor of Science degree in construction engineering from the ISU Department of Civil, Construction and Environmental Engineering (CCEE), says Mortenson Construction received the news the certificate of occupancy for the stadium had come in six weeks ahead of schedule. "It's really significant for the customer," Kruger said, describing the impact of an early certificate of residency to both the Minnesota Sports Facility and the Minnesota Vikings. "It allows them to move in all of their equipment, work out any of the kinks that there might be in moving into a brand new building that they haven't been able to occupy before … It also allowed them to schedule a few more events and feel comfortable doing so," Kruger said. The stadium is an engineering feat. The Minnesota Vikings compared the new U.S. Bank Stadium to the old Mall of America Field. According to the team's official website, the new stadium spans 1,750,000 square feet. It fits 70,000 seats at maximum capacity, about 6,000 more than its predecessor. ISU CCEE Department Construction Engineering Program Professor-In-Charge Chuck Jahren toured the stadium site in November 2015. Those tours were led by ISU CCEE alums (like Kruger) working for Mortenson Construction. "It's a lot more complex than a typical project," Jahren said of the stadium. Jahren says that department students get the industry-standard training they need even before they step onto construction sites. "They bring a lot of insight into that process," Jahren said, "… Then eventually in our capstone classes, they end up working in teams like the kind of teams that they'll have to work with in order to build that kind of building."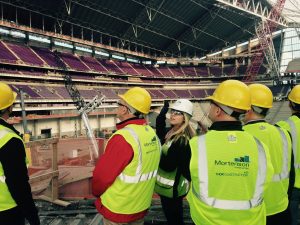 Kruger isn't the only Iowa Stater on the U.S. Bank Stadium construction site. Several ISU construction engineering graduates and interns from Mortenson Construction alone have worked on the stadium. Beth Hartmann is an ISU CCEE senior lecturer. She has had some of the alums and interns in class. She also took the November 2015 stadium tour. "Stuff happens on construction projects every day and you have to improvise and you have to be able to think on your feet," Hartmann said. "I think that's what our program does for our students. It trains them on how to be problem-solvers and flexible so that they can find a solution that may not be right there on the drawing boards." Back in Minnesota, Kruger says her ISU CCEE experience impacts her work constantly. "I know that all of us who graduated from that construction engineering program really feel the same way, that it was a great program, that it really gave us the knowledge that we needed to do well in this industry," Kruger said. The Minnesota Vikings first play in the U.S. Bank Stadium on Sunday, August 28, when they face off against the San Diego Chargers. Follow Iowa State University CCEE Department on Facebook, Twitter, and LinkedIn for the latest in engineering news and research. And keep up-to-date by visiting our website at ccee.iastate.edu.