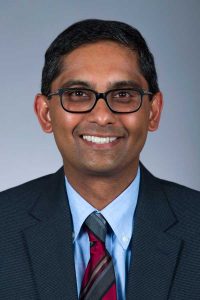 Sriram Sundararajan has been named associate dean for academic affairs at the Iowa State University College of Engineering. The appointment took effect July 1. Sundararajan joined Iowa State in 2002 and is currently a professor in the mechanical engineering department. He also serves as professor in charge of the Engineering-Liberal Arts and Sciences Online Learning program and is the equity advisor for the college.
As associate dean for academic affairs, Sundararajan will be responsible for the undergraduate and graduate education mission of the college. This includes support of educational activities for the 8 engineering academic departments, oversight of all student services functions, managing the accreditation process, oversight of on-line learning, and serving as the liaison to various administrative offices at the university level.
"Sriram is an outstanding addition to our leadership team," said Sarah Rajala, dean of the College of Engineering. "His academic and management skills, commitment to student success and experience at Iowa State are very strong assets that will benefit our college. Sriram will play a key role in helping us advance our mission of educating future engineering leaders."
Sundararajan previously held the positions associate chair for operations, associate chair for undergraduate studies and associate chair for graduate studies and research in the mechanical engineering department at Iowa State. He received his bachelor degree in mechanical engineering from the Birla Institute of Technology and Science in India, and his master and doctorate degrees in mechanical engineering from The Ohio State University. He is a Fellow of the American Society of Mechanical Engineers. His research expertise is in tribology and contact mechanics, surface science and engineering, scanning probe techniques and inquiry-based and experiential learning.
The Iowa State University College of Engineering is the largest on campus with a record number of 9,312 students – and ranks seventh nationally in undergraduate enrollment. The college offers 12 engineering majors and five minors.
Contacts:
Sriram Sundararajan: 515.294.1050 or srirams@iastate.edu
Ann Wilson: 515.294.4881 or afwilson@iasate.edu