Simon Laflamme knows both his study and the place in which he works.
"We do a lot of work on energy in Iowa—wind energy—and at Iowa State," Laflamme said.
For about six years, the Iowa State University assistant professor has been researching soft elastomeric capacitors, or SECs.
This May, that research was recognized.
Laflamme, along with students and alumni of Iowa State University's Department of Civil, Construction and Environmental Engineering (CCEE), co-authored the paper "Network of flexible capacitive strain gauges for the reconstruction of surface strain."
The paper details their research with SECs. Early in the month, Laflamme heard that Measurement Science and Technology had chosen the paper for recognition as one of its "Highlights of 2015" articles. Measurement Science and Technology's Stella Lander says that there were nearly 1500 articles submitted to the journal last year. Of those, a little less than 360 were published. But only 23 were chosen as "Highlights of 2015" articles.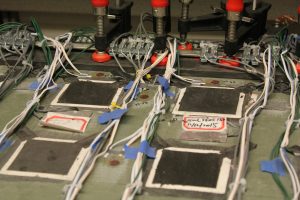 Laflamme says he is very happy with the recognition. But his research is far from over. He wants to introduce engineers to the various uses of SEC's.
Speaking of uses, what is an SEC? Picture a small square patch. It looks like fabric but is made out of an styrene-ethylene-butylene-styrene. It stretches and gives. This is the "skin-type" sensor that Laflamme and his students are researching.
Laflamme says that, right now, engineers rely largely on the "eye-test" to spot maintenance issues. He is developing SECs to use on infrastructure. He says the system could reduce guesswork on a broad scale. For example, Laflamme says SEC's could be used to catch maintenance issues in turbines and bridges.
"You would end up having systems that would last longer, which at the end would result in cheaper costs of energy," Laflamme explained. "So with technology like that, it would come to decrease the money you pay for electricity produced by wind."
Hussam Saleem is a recent graduate of the CCEE Department and a co-author of the paper.
"The findings of this paper were a major step into making the SEC applicable in real-life applications," Saleem said.
Graduate student and co-author Austin Downey agrees.
"I am excited to be working with a passionate and innovative team to advance the ability of engineers to monitor our nation's infrastructure," Downey said.
Articles picked for "Highlights of 2015" recognition are chosen annually. Fellow authors of the paper include ISU CCEE Department graduates Jingzhe Wu and Chunhui Song. Read more about SEC research.