ISU Concrete Canoe Co-Captain Abdullah Abdullah knows how to inspire recruits.
"We have a project, a due date," Abdullah said. "We have to finish it before the due date. We are representing [Iowa State University], so we have to have a really good final product."
This spring, the ISU chapter of the American Society of Civil Engineers (ASCE) Concrete Canoe student organization hosted the Midwest Concrete Canoe Competition at Don Williams Lake near Boone, Iowa. Every year the organization competes against schools from Minnesota, North and South Dakota, and Iowa.
So how do you get hard workers?
"We keep the oldest canoe in front of them," Abdullah said, describing concrete canoe meetings. "So every day when they work they look [at the previous canoe]. They see what they need to do."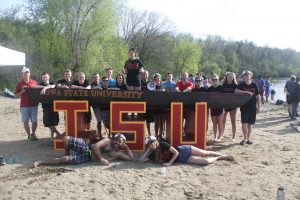 In the past several years, Abdullah says the group's membership has grown. It used to number in the teens. Now it numbers in the upper thirties.
"Just convincing the students to give their break time to concrete canoe, that was a big challenge," Abdullah explained. "But now, they are having fun."
Concrete Canoe Advisor Tim Ellis agrees.
"They take a lot of pride in the fact that it is extracurricular, it's outside of their normal academic curriculum and it is all student-led," Ellis said.
Students participating in the competition build—you guessed it—a concrete canoe. How does concrete float? Both Ellis and Abdullah explained that the aggregate used in the concrete causes the concrete's density to be less than the density of water. This keeps the canoe afloat and the team out of the water.
There is racing at the competition. But not all events are created equal.
"You could win the competition without knowing how to hold a paddle in your hands," Ellis said.
Ellis says a large portion of the competition is based on presentations and technical papers. Both are submitted before the contest begins. A process display is required as well.
Even so, Iowa State members of concrete canoe know how to row. In the men's slalom/endurance race, the team took second place. Taking home the overall prize for cumulative score was the University of Wisconsin-Platteville.
And the team knows how to make collaboration work.
"You really do it because it's fun," Abdullah said. "We try to make it more fun than like a class or school."
Concrete Canoe meets during the university academic year on Tuesdays and Thursdays. Members meet from 7-9 p.m. at Town Engineering Building.