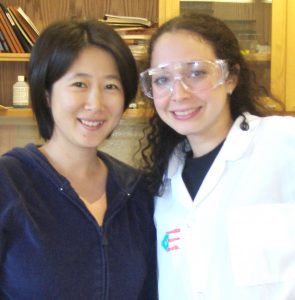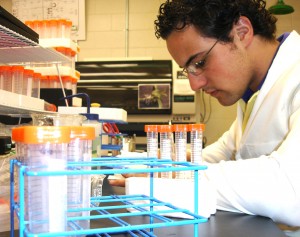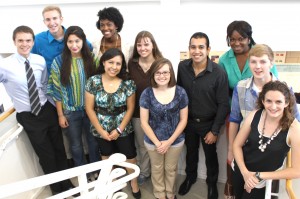 The Department of Chemical and Biological Engineering at Iowa State University is now accepting applications for the Biological Materials and Processes Research Experience for Undergraduates (BioMaP REU) program. Applications will be accepted through May 8, 2016.
The application form and more information may be found at www.cbe.iastate.edu/research/undergraduate-research
A program flier can be found here.
Participation is limited. Students accepted to the program will work in CBE and related areas from May 31-August 6. This will mark the tenth year Iowa State will host this enriching research experience, supported by the National Science Foundation. Students will work with award-winning Iowa State chemical and biological engineering faculty on the country's latest chemical and biological research in energy, sustainability and health. The following research topics are available:
Immunomodulatory Nanovaccines against Infectious Diseases
Drug and Gene Delivery
Hyperspectral Imaging of DNA and Protein-Linked Metal Nanoparticles
Aptamer-based Catalyst Design
Competition between Soluble and Extracellular Matrix Signals during Cell Migration
Model Validation for Photosynthetically Active Radiation Transport in Algal Photobioreactors
Contribution of Membrane Proteins to Microbial Robustness
Thermal Deconstruction of Biomass
The Artificial Pancreas Project
Polymer Properties that Activate Macrophages to Kill Lymphoma Cells
Bacteriophages on Porous Surfaces used for the Detection of Bacteria
Understanding the Relation between Aptamer Structure and Function for Sensors and Synthetic Biology
ex vivo Mini-gut Mucosal System for the Investigation of New Oral Vaccine
The Social Network of Plants
Genome Engineering in Lactococcus lactis
Probiotic Engineering
All topics are described in detail here.
At the conclusion of the project, students will present their posters at a research symposium hosted by the Iowa State University College of Engineering. In their spare time, participants can experience the picturesque Iowa State University campus as well as Ames, Iowa, which was named a top 10 place to live in the U.S. by CNN Money magazine.
Compensation for the program, per student, includes a $450 per week stipend, travel expenses paid up to $800, and food and housing expenses paid up to $2,500.
Undergraduate students who are U.S. citizens and U.S. permanent residents may apply. Community college and underrepresented minority students are encouraged to apply. Please direct questions to Monica Lamm at 515-294-6533 or mhlamm@iastate.edu.